One of them most popular pornstar that you probably all were a big fan of (and still are), Jesse Jane decided to stop performing. She announced the retirement from porn on The Morning After radio show 590 AM The Fan. Jane said that she had an awesome time, meet the best people, however, it's time to move on. You may be gone, but you will never be forgotten, Jesse.
Over her super rich adult entertainment career that lasted her a whopping 15 years, Jesse won a ton of industry awards and starred in some of the biggest movies. She won 20+ awards of which the 2016 XBIZ Best Sex Scene – Gonzo Releasee was her last crown she took. Other than that, she is also the 2013 AVN and 2012 XRCO Hall of Fame winner.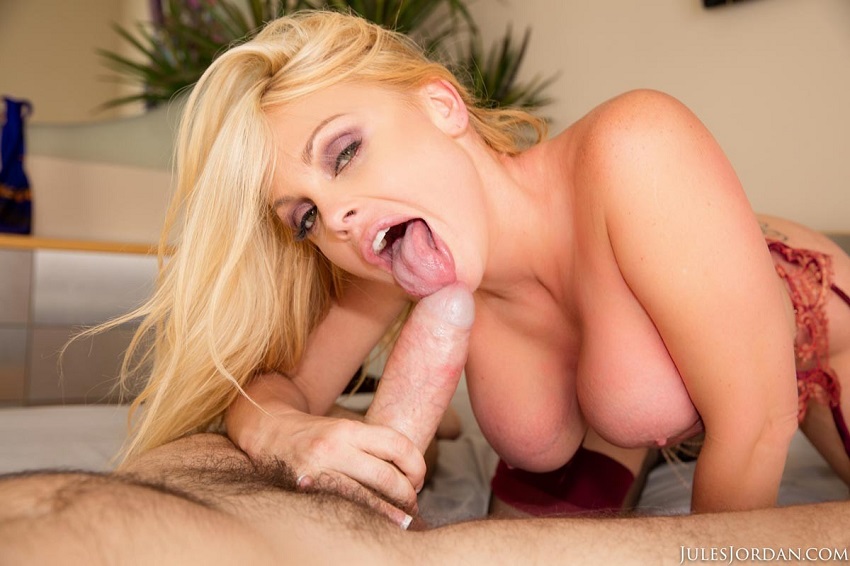 But more than that we remember her from all the porn and mainstream movies she did. "Pirates," "Pirates 2: Stagnetti's Revenge," "Fighters," "Cheerleaders" and "Body Heat" are just a few of the most popular ones she did. According to IAFD, she did or has been part of 128 dirty films. Not that crazy huge number, still, Jesse was always in action.
As for the mainstream films, you can find Jesse in "Baywatch: Hawaiian Wedding," "Entourage," "Middle Men" and others.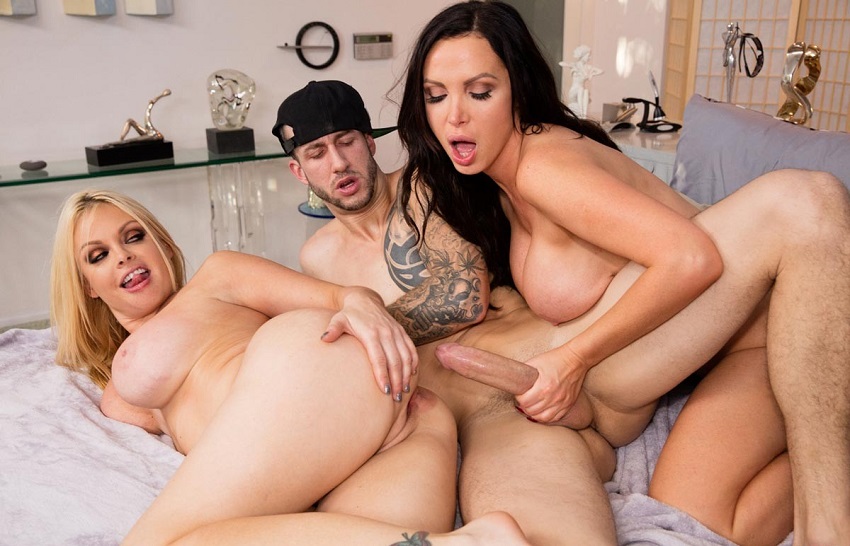 It's hard to even begin with Jesse since she did so much but let's do it from the very beginning.
Born Cindy Taylor on July 16, 1980, in Fort Worth, Texas, Jesse Jane is her official stage name that she used during the time she was signed with Digital Playground. The contract lasted all the way from 2002 up to the end of 2014. In January 2015, she signed an exclusive two-year long contract with Jules Jordan. This also meant history for her last part of the stage name, sticking with Jesse only.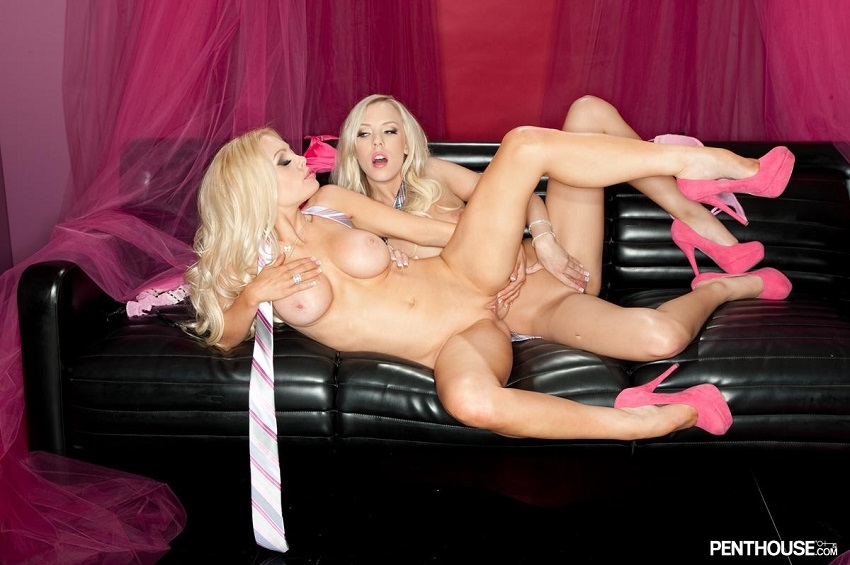 It all began when Jesse read an article about Tera Patrick, learning that she works in the adult entertainment, for a company, called Digital Playground. Without much hesitations, now former adult film actress, Jesse, contacted them and the rest was history. A new star was born, exclusively signed to DP. It looks like they really saw that Jesse has great potential of becoming one of the biggest porn stars in the world. And boy were they right.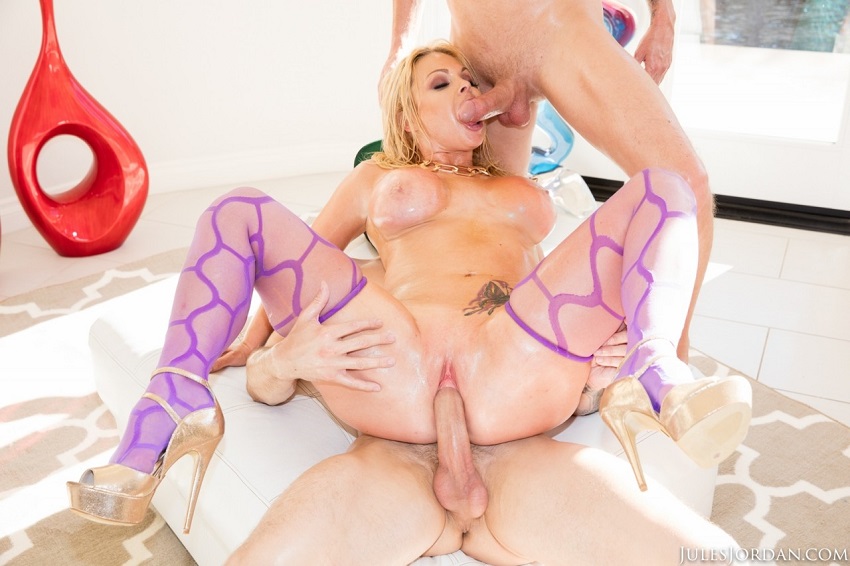 It was a wild ride for Cindy, hosting adult industry ceremonies, being a sex columnist, the host of Playboy TV's "Night Calls" and much more. And in between, she was consistently active, shooting dirty movies for her loyal fans and taking home various trophies. Her popularity quickly skyrocketed, and she became of the hottest girls in the world. A blonde babe with big boobs and a massive passion for sex – you cannot go wrong with this kind of creatures.
She also got offered to have her signature Fleshlight made and she sure did not refuse the proposal. Who would have thought that her toy was the most purchased toy by the Fleshlight readers in 2016?
Although she won't be releasing pornos anymore, you can still watch her erotic scenes and "fuck" her mouth, pussy and asshole, like, forever.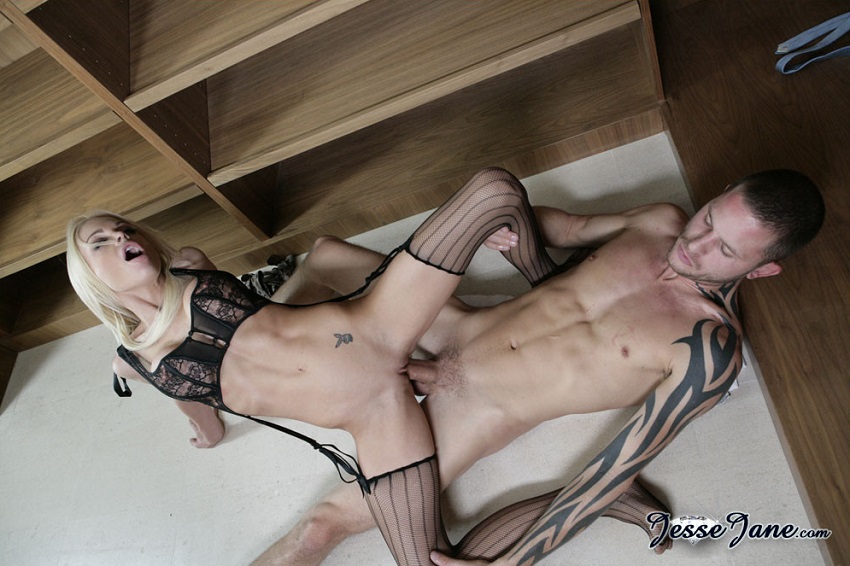 For your information, Jesse also has her very own brand of tequila, named "Diosa." You can pick between five flavors: apple, silver, mango, café caramel and almond. A true business personality, if you will.
Get the feeling like she is always by your side and follow Jesse on Instagram and Twitter.
Hot sex action from international superstar Jesse Jane
Bonnie Rotten and Jesse in a vigorous lesbian fuck

There are literally no limits for Bonnie and Jesse. When they collide, things get serious AF. They don't really waste any of their time and go to business fucking each other like mad women. They might be wild and wicked, however, everything they do, they do it with enthusiasm and passion.
Finger fucking at a fast pace and eating each other out brings the two to volcanic orgasms. Pussy juices spray all over the place when they destroy one another and offer each other one of the most pleasurable experience ever. You will going to love this girl-girl madness to the fullest.
Monster French cock for a big boobed blonde slut

We are getting more and more real by introducing a hot DP sex show with Jane and Manuel Ferrara. The gentleman treats every lady right. Not to mention, he must feel really lucky to get a chance to smash that tight little pussy with his enormous machete. Not to mention, having it sucked by the hot star. She makes things look beautiful when she wraps her full lips around his fat member and blows it with style. The pounding session this two experience is vivid and fast, just the way they like it.
Insatiable Jesse is full of lust and energy that help her experience pleasurable sensations with every sexual encounter.
Slutty blonde maid gets drilled by her boss


By putting up the sexiest outfit, sexy blonde maid begins with her work. Soon she gets interrupted by her boss, right there, in the kitchen. Instead of cleaning the place, she ends up cleaning his cock.
On the kitchen counter, he takes her hard with his giant dick and stretches that twat wide. A maid with extra services is the best maid you can get yourself. This dude is well aware of that. From penetration to handjob and blowjob, she does a magnificent job taking care of his rod.
Lesbian warm up before the threesome

A blonde whore and a brunette bitch, Jane and Kirsten Price, warm their bodies and pussies up with some lesbian fun. They are getting ready for the big shaft by fingering each other's pussyholes. They like to be wet and aroused in advance and a little girl-girl action gets the job done perfectly. The only thing they want now is his bone. By joining forces, they kneel down and do the member orally, making him feel the happiest person alive.
Bibi Jones and Jesse Jane enjoy a threesome fuck

When together, they are ready for pretty much everything. The most excitement they receive is when a stud with a big schlong joins them for a threesome. They will do everything to fulfill his fantasies and bring every desire to reality. First they kiss in front of him and show him how girls have fun. That makes him horny, and he is ready to join them with a huge boner.
The girls, Bibi Jones and Jesse, are ready to take his mighty rocket with both their mouth and their pussies. To end the vivid threeway sex, they go on their knees and receive a nice load on their beautiful faces.
The new top gun gets fucked in the toilet

Jesse signed up to become one of the newest top guns. Will she be the right fit? They might make fun of her, however, she has a thick skin and does not give much fucks about the boys.
One day, when sipping on a cold one in the bar, she begins to flirt with this hot pilot. When both a bit tipsy, they don't really wait for the right moment. The right moments is now. That said, he follows Jesse to the toilet where they take it all off and fuck each other's brains out.
A million dollar cock is all she ever wanted

No matter who the guy is, if she will be attracted to him, Jane will do her best to have him hooked and seduced. And that is not really a problem for a caliber of a girl that she is. With her stunning looks, blonde hair, nice rack and a pair of perfect boobs, every guy acts like a little puppy when Jesse is about to go down on him. Even if the cock is worth a million dollars, she will still get it. Not to mention, she will offer special care with her dripping wet va-jay-jay.
Tempting blonde stewardesses get smashed by a pilot

When they are not in the air, waiting for the next flight to happen, stewardesses and pilots spend kinky moments together. Need proof? Here you have it. Two hotties, Jesse and Riley Steele get rid of their outfits and enjoy the private and very intimate moments with a pilot. A threesome is on full whack with him pounding one hard while the other takes care of her pink with her fingers. He takes turns and stuffs both hard in their muffins before he releases a torrent of hot spunk on their faces.
Bossy lady owns a naughty real estate company

The naughty boss, Jesse, owns this special and very secret real estate company that owns million dollar properties. She promises her clients way more than they expect when they are about to seal the deal. Do clients get free ladies in each room for fucking? Or will the boss woman herself take care of them and their stiff sclongs? With a company like Jane owns everything can happen. It all depends on the final prices they are ready to pay.
Bathroom blowjob surprise by two hot blonde women

Every man's dream gets realized with this scene. He walks into the bathroom and there they are, two incredible babes ready to take care of him and his monster snake. They are Jesse Jane and Riley Steele and they are very familiar with giving the most satisfying blowjobs on the planet. Giving head is something they are exceptionally good at. Together, they work his woody deep inside their mouth and offer him an unforgettable experience. It is big enough for the two of them to play with it in unison. One sucks it while the other strokes it. And it all happens in POV for you to enjoy it.