There is a busty librarian out there who has a strong passion for fucking in front of the camera, and her name is Kendra Sunderland. Boy, are all the librarians one of the naughtiest creatures, aren't they. Just take Kendra as an example, and all of your questions will be answered.
However, Kendra did not become popular due to the fact she is a pornstar. As a matter of fact, this smutty girl masturbated on cam at a University library (with other students around!). Oh yes, you read that correctly. Needless to say, she ended up being all over the place, and everyone secretly wanted more Kendra pussy on camera.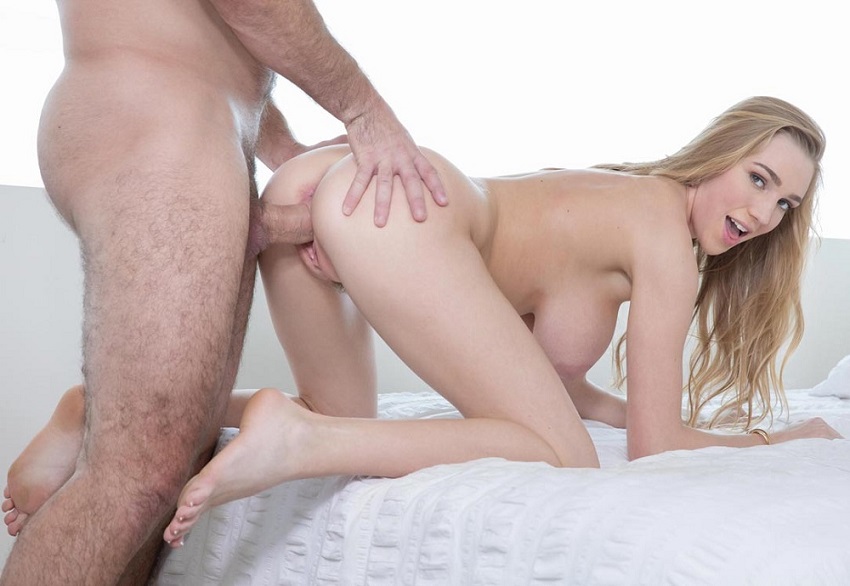 In the beginning, Kendra Sunderland never really planned to join the adult entertainment industry. She wanted to take a different path in her life, but something deep down mysteriously dragged her into doing porn. Still, when asked if she would ever do X-rated content, Kendra said it might happen only during camming.
From all the live sex shows she did, Kendra eventually got more and more into the Smut business. And then it happened. Kendra met someone. With this special person, Kendra fooled around about doing porn and getting really turned on thinking about it. All of a sudden, Sunderland got an offer from the one and only, Greg Lansky. Although she already grew into the fact that porn is something she must try at least once in her life, there were no more questions now.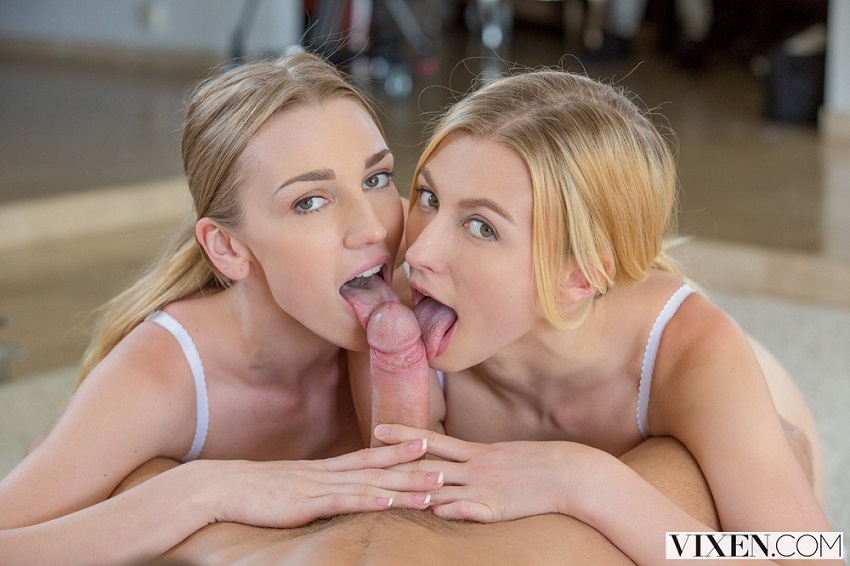 When Greg asked her if she would be willing to shoot for him, there were no second thoughts. She jumped in with both feet and kept on doing it up until the day of writing this. Moreover, Kendra keeps on pushing her limits and producing high quality adult films for all the busty babe fans out there. Aren't her boobs just the perfect?
Growing up in Salem, Oregon, Kendra was always more of a troublemaker than an actual good girl. Not to mention, she wasn't really a fan of school and got grounded over and over again.
Born on June 16, 1995, Kendra Sunderland lost virginity at the age of 15. It was as bad as it can get and does not even want to remember it. Being a teenager and even before doing kinky stuff in front of the lens, Kendra went down with girls, too. With two she even had a proper lesbian sex experience.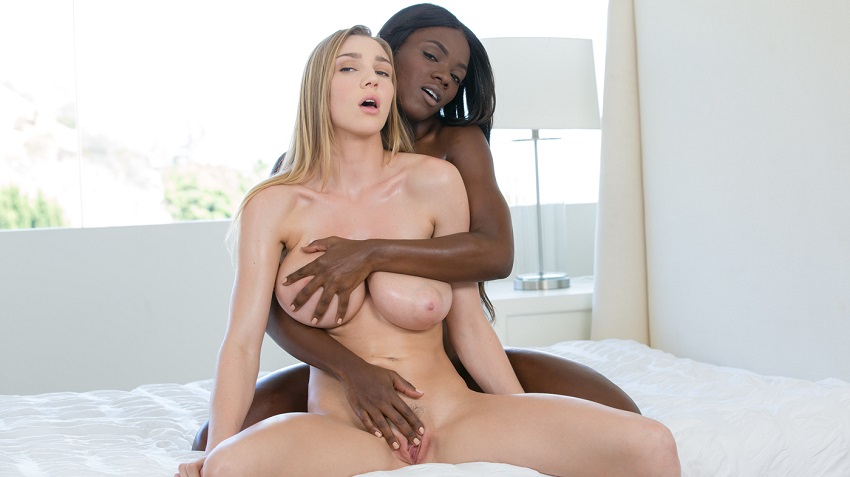 Nowadays, you can find Kendra Sunderland doing both boys and girls. She even does not mind shooting a passionate threesome XXX scene. To date, Kendra managed to work for two of Greg's companies, Blacked and Vixen, as well as Jules Jordan and other notable companies.
I wonder when Greg will shoot a Tushy scene with Kendra.
The girl of amazing body physique and a crazy pair of big, all-natural breasts, Kendra, will always fulfill your dirty fantasies. With her sex scenes and a huge passion for taking care of guys and ladies, Kendra always performs at her best. You will be blessed seeing any of her releases.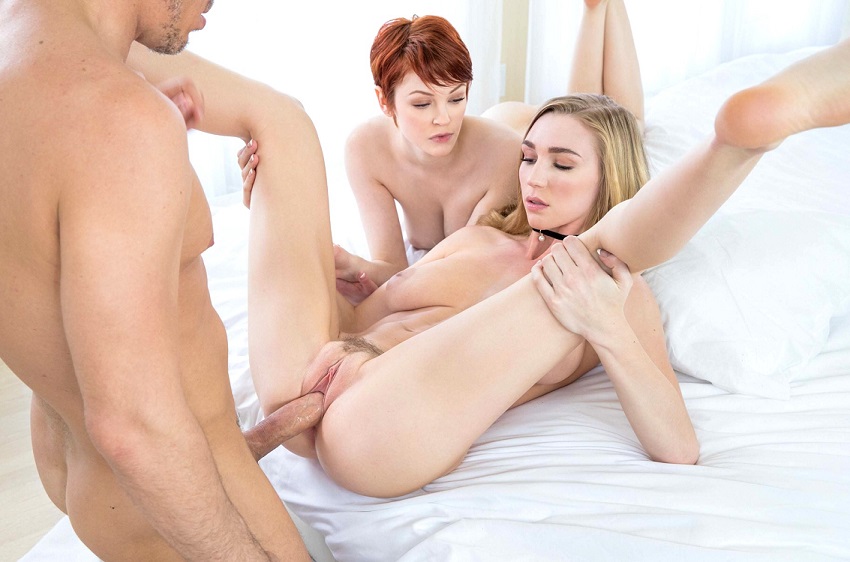 To stay up to date with what Kendra is going through on a day to day basis, follow her on Instagram and Twitter.
The best free Kendra Sunderland porn videos
Quick pussy rub and ass fingering

Can you imagine seeing Kendra doing a live webcam sex show just for you? Well, it can happen, and you can be the lucky one. For everyone else, myself included, here she is, doing herself on the floor in her bedroom for the whole world to see how good she is at rubbing one out. Her sexy and voluptuous body trembles when she delicately touches herself and massages her clitoris. For even more pleasure, Kendra reaches all the way around with one hand and starts to finger her butthole, too. Lovely blonde babe with a pair of huge breasts does a good job taking care of herself and the viewer by performing a mouthwatering solo masturbation show.
Hot lesbian fuck featuring Riley Reid and Kendra Sunderland

Best friends since forever, Riley and Kendra are about to do something very naughty. Ever since Kendra moved in with Riley, the brunette started to have a naughty feeling about her blonde friend. In other words, Riley wants to fuck Kendra badly.
After weeks pass by, Riley Reid finally builds courage and lets Kendra know how she feels about her. Surprisingly, Kendra's reaction shocks young Riley. They are both very much interested in each other, and they cannot hold themselves back. The lesbian fun action starts and, after all this time of being BFFs, they finally go down on each other and have the girl-girl fuck of their lives.
Busty blonde amateur sucks and fucks on cam

For the second time, have you already seen Kendra Sunderland perform a live webcam show? In case your answer happens to be a no, do yourself a favor and enjoy her live sex show documented in the video above. You will not be left disappointed. Like with any of her professional scenes, Kendra makes sure her amateur performances are just as quality. Maybe the video quality is not top notch, but the way how she sucks a stiff cock and how she rides it with her juicy pussy will blow you away every single time. Jump on board and let Kendra's passion for sex take you away.
Interracial lesbian sex never looked better

Kendra and Ely have the time of their lives as a couple. Everything seems to be just perfect. And when Kendra asks him whether or not there are any restrictions, he lets her know that he is open for pretty much everything. For as long as he can watch, Kendra can do pretty much everything that excites her.
During the lingerie photo shoot with this new ebony girl, Ana, things get super spicy. This is the first time for Kendra to work so closely with Ana and she can barely hold herself back. When the shoot is over, the girls attack each other and there is nothing to stop them. The girls go all in and munch on each other's pussies and lick one another's anuses while lucky Ely is there, enjoying the amazing girl-girl sex show. Wowza!
Sugar daddy is the way to pay for her student loans

After graduating from college, Kendra is ready to go into the world and see what it offers her. However, she first wants to pay for her student loans as quickly as possible. But how?
To her luck, she meets this lady at the gym who works as a scout, looking for hot girls to feed them to her sugar daddy boss. Will Kendra be into this kind of stuff? After a thorough conversation, Sunderland is ready to take the plunge and offer herself to the super rich sugar daddy who finds her a perfect fit. A vivid threesome fuck session follows that will help Kendra pay for the student loans and then some.
Mandigo's big black cock stretches Kendra's pussy wide

Dirty little girl, Megan, found this extremely wealthy black guy, Mr. M, on a sugar daddy site who she had an amazing time with. Immediately, she tells Kendra about him and without giving it a second thought, Kendra Sunderland pays him a visit.
His assistant welcomes her and gets her familiar with the mysterious black man. More importantly, assistant warms Kendra up and gets her ready for the big black cock. Fully aroused, Kendra goes to the master bedroom where she goes down on him and takes his monster shaft with passion and enthusiasm. This is definitely the biggest cock she ever had a chance to stuck into her mouth and get her vagina stretched by.
Two chocolate studs for open-minded Kendra

The fact of the matter is, Kendra is one of those lucky girls whose boyfriend is open for everything. Yes, sexual-wise. The only requirements he has is that he needs to be present when she is about to bang somebody.
This one day, after the photo shooting with two attractive black guys, a fulfilling opportunity arises for Kendra Sunderland to experience an interreacial threesome. A fantasy she always dreamt about.
Since he is out of town, Kendra calls her boyfriend and lets him know about the situation. She will go against the grain, however, Kendra leaves the phone on so he can hear everything. But is hearing his girlfriend getting fucked hard by two black studs enough for her boyfriend? Let's find out.
Boyfriend receives a special treat for his birthday

It is his birthday, and Kendra has a special surprise ready for him. With her best friend, Alexa, they made a deal to let the pervy stud experience his dream fuck, a threesome.
Being blindfolded, he has no idea yet what is going on. "It almost feels like you have three hands!" When he has enough of it and wants to see what is going on, he finds both Kendra and Alexa taking care of him. The big fantasy of having a threesome just came to reality. He enjoys the young blonde hotties to the fullest and fucks the living daylights out of them before he sprays their pretty faces with a large load of spunk.
If only every man would receive such a gift for his birthday! Girls, no need for the expensive stuff, really.
The black cocks craving Kendra Sunderland continues her obsession

She is insatiable, always in need of something fresh. When an actress and a movie producer start to flirt with her, Kendra knows what they want. And with her open relationship ready boyfriend, the three of them throw a show down for him to watch and enjoy the special interracial threesome performance. Watching his girlfriend getting stuffed and stretched wide by a BBC arouses him – but he does not join. Instead, he lets them do whatever there is in their need so all three reach satisfying orgasms. What a view, huh?