Snakes! Our human fascination and horror with them goes all the way back to the Adam and Eve story in the Christian bible. Sure, they're all fangy and venomous, but their true horror is psycho-sexual. Snakes are dangerous dicks. It's no accident that Satan appears in serpent form when trying to screw with a couple of happy nude people in the Garden of Eden.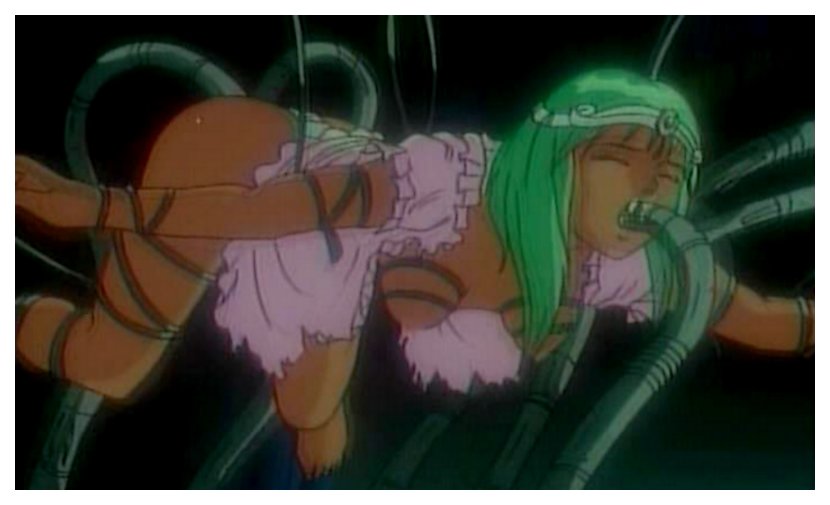 Meanwhile, here we are in 2019. Nobody survived the rise of the internet without seeing tentacle porn at least once. Some of you ecchi perverts have seen your Urotsukidoji a hell of a lot more times than just once! Tentacle porn takes the psycho-sexual horror of snakes, multiplies it by more tentacles than you can count, and blasts it into every orifice — while you watch. There's typically no extra charge for the screaming.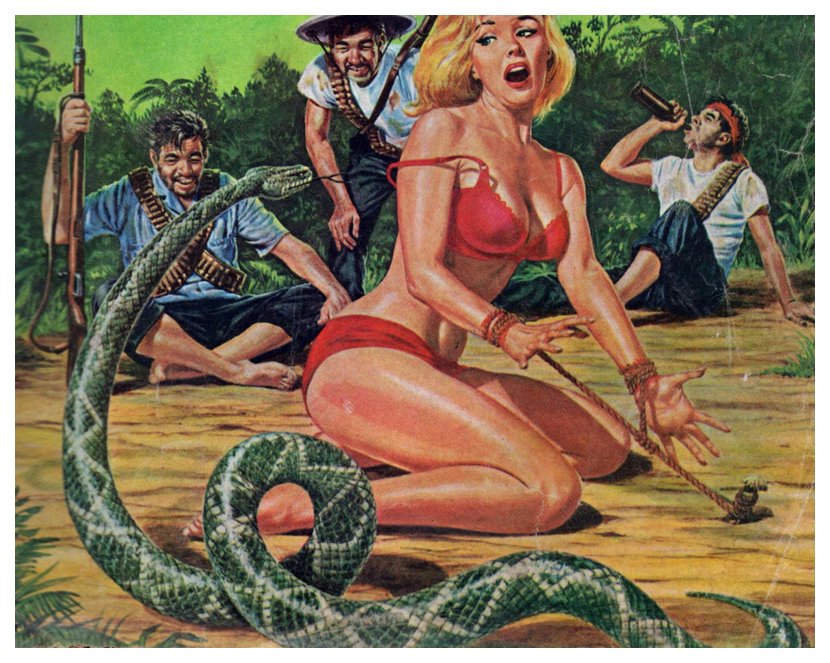 But I gotta tell you: before the Japanese invented tentacle porn, "snake porn" was a thing going back centuries. I could do a whole post — and maybe I will! — about sexy symbolic snakes in fine art. But this is not that post. This one is about the pulp magazine era in the United States, when censorship kept actual penises off the front covers on magazine racks. Our old friend Snake, the original dangerous dick, got painted in instead. Oh, the acres of oil paint that got ejaculated onto canvas! Naughty snakes had to stand in, symbolically, for all the dick-peril the magazines couldn't display directly.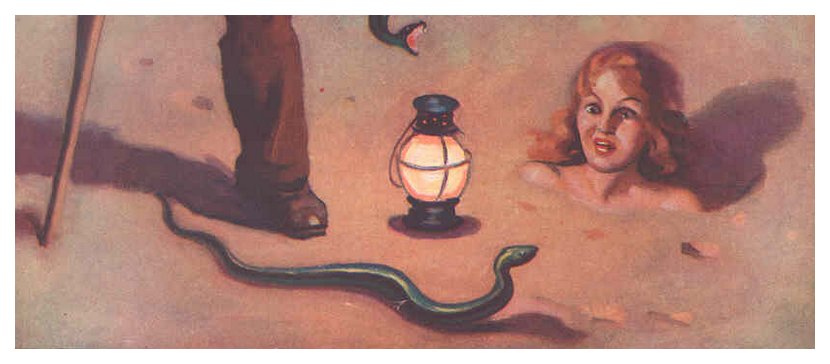 The artwork above is about as pure "dick-peril snake" as you are likely to find. It reminds me a lot of the whole micro porn genre of "beach blowjob porn." You've seen this stuff: some unlucky lady gets buried in sand "just for fun" until only her head is showing. Then, too late, she realizes that none of her friends are anywhere around. Now these "friendly guys" she's hanging out with are all taking out their dicks. Uh-oh!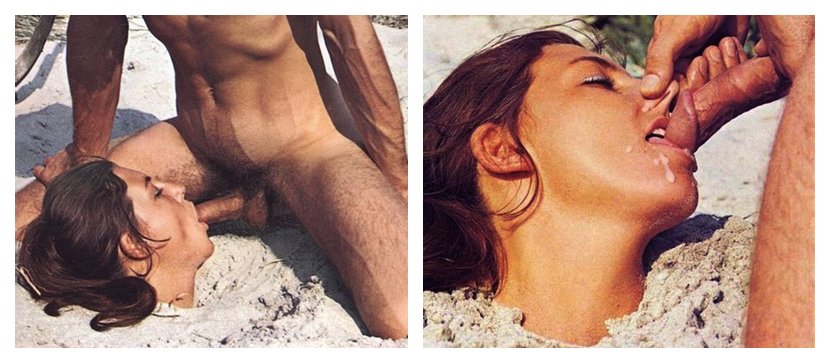 The difference, of course, is that you could show the snake version on the cover of Dime Detective Magazine. In 1934! That's why symbolic snake porn has always been so convenient for artists in a prudish world. Everybody knows what the snake means. He's a dangerous dick!
Have you seen modern submissive BDSM narratives that read as if the submissive woman was basically hypnotized by the power of dominant dick? Here's a cobra, playing that role for a woman with bound wrists, as she looks meekly up from the ground: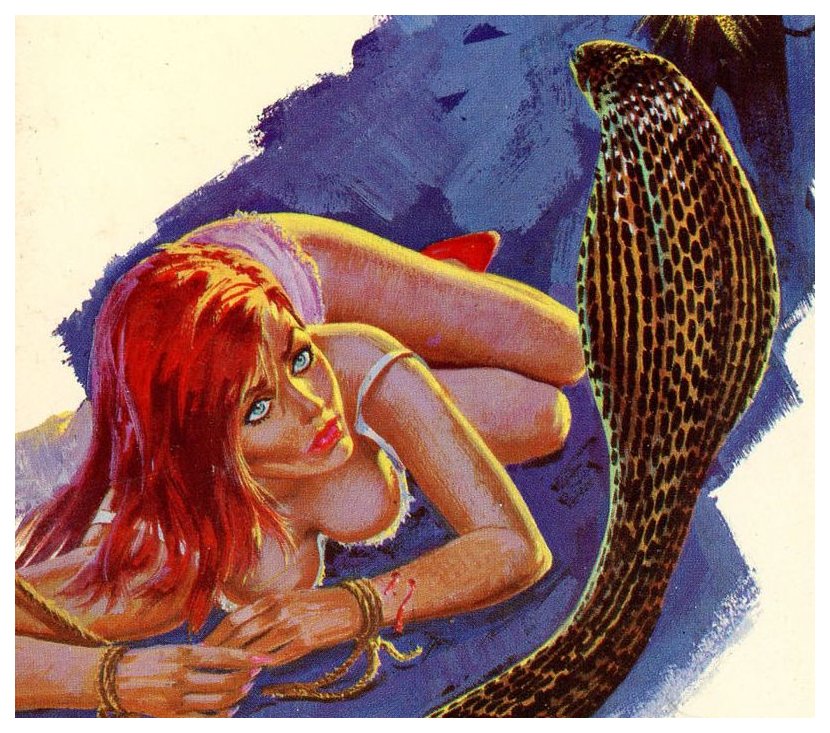 Even when snakes gets displayed on manly pulp-adventure covers as tools of torture and interrogation, their sexual symbolism never gets neglected. Check out this next snakey boi — his tongue is out and just about invading the bound woman's mouth. It makes symbolic sense when you remember that in wartime, dicks are the original terror weapon: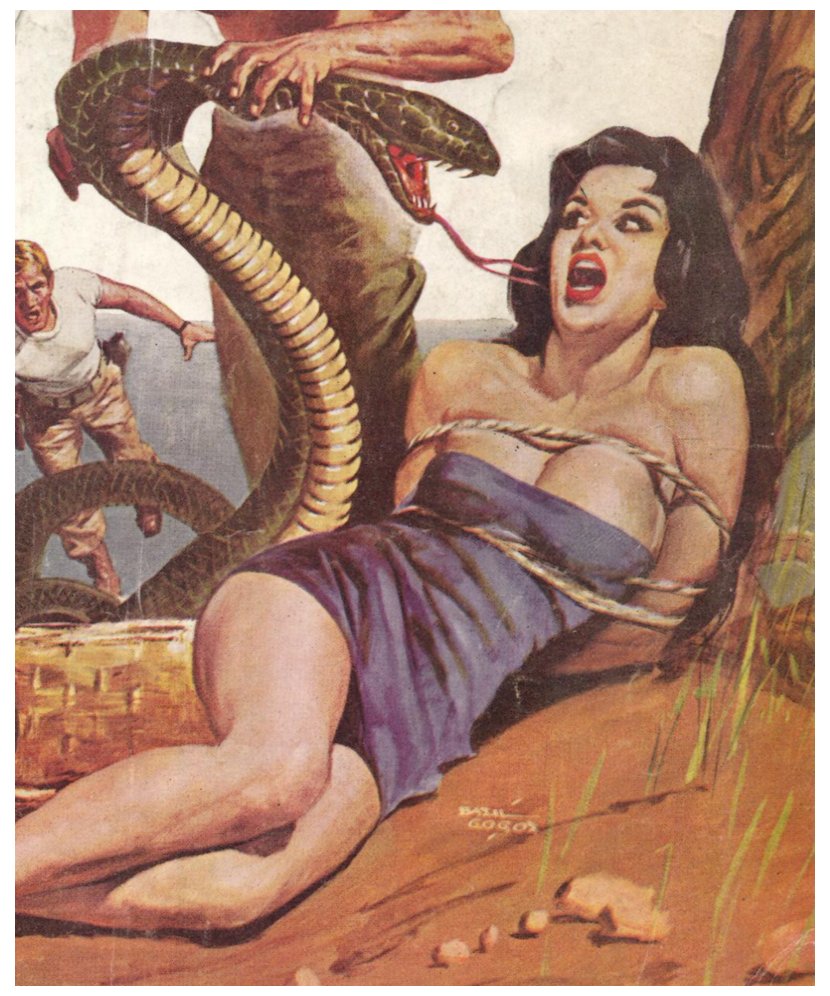 Our dangerous-dick snake friend also seems to pop up any time there's a pagan ritual, some cannibalism, or any kind of female human sacrifice to be illustrated. I mean, who really wants to waste a perfectly good virgin? Mr. Snake can make sure that doesn't happen!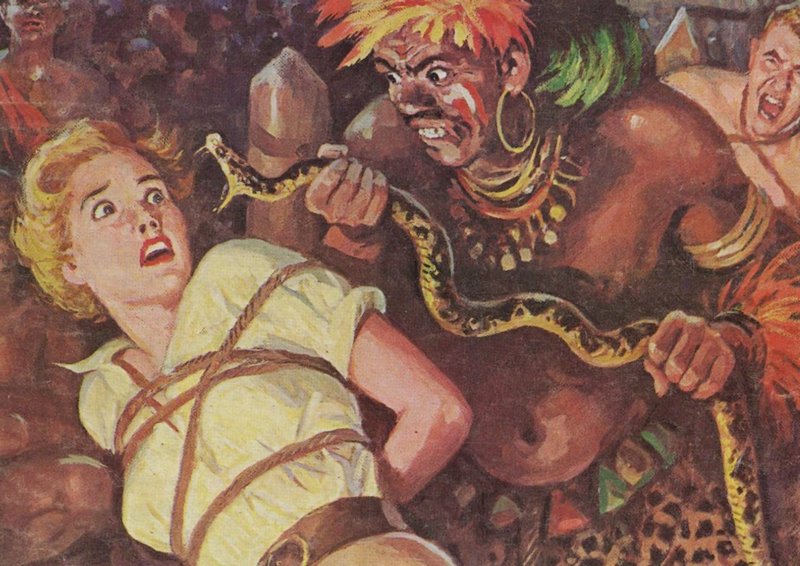 Snakes also never seem to stay in their pants (er, I mean in their cages) like they are supposed to. Pesky little buggers, always popping out to cause trouble: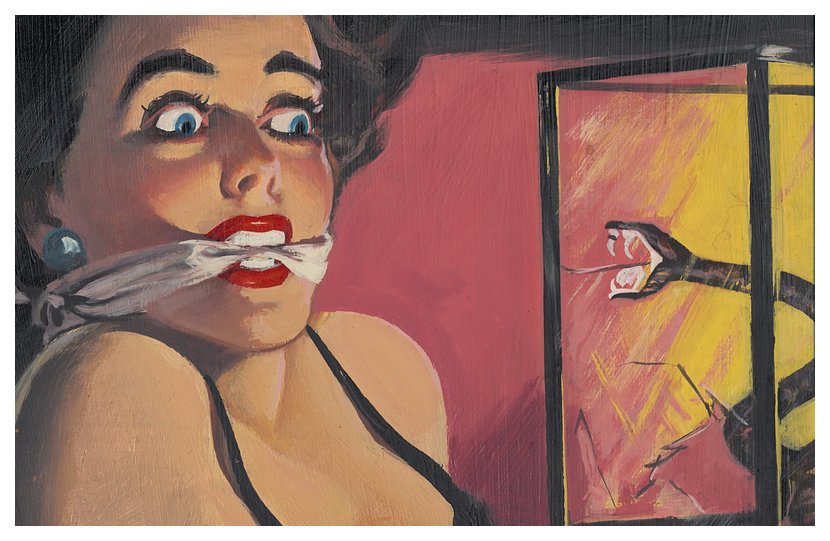 The amazing thing is just how ubiquitous the snake-as-dick artistic motif is. Once you start looking for it, you see it everywhere. That's why I claim that snakes are the original tentacle porn. You better watch out!