If you are in search of the best VR pornstars, you came to the right place. We present to you the top ten that are dominating 2018 and, very likely, the coming years as well.
Of course, there are new ones that are popping up on a regular basis so be on the hunt at all times!
All you porn fans out there who have not tried virtual reality porn yet, you are doing something (terribly) wrong. Make sure you do not miss it and experience a whole new horizon of sensations that only VR porn brings.
Liya Silver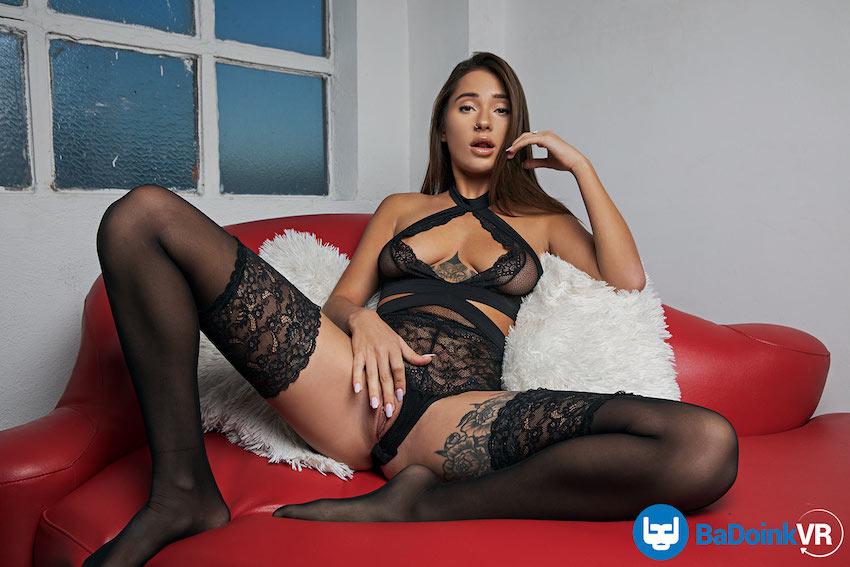 Liya Silver is this exceptionally hot and sexy VR pornstar that will drive you crazy as soon as you see her. She has a stunning and all-natural body with a perfect pair of tits and a lovely ass. Once you see Liya do her thing, there is no turning back. Instead, you will become an immediate fan and want to see just about every porn scene that features this hottie. By the way, Liya Silver comes from Russia, and she only started in the adult entertainment industry back in 2018. Even though Liya Silver is still relatively fresh, she already took the Smut business by storm.
Instagram: instagram.com/yourliya/
Twitter: twitter.com/LiyaSilver
Elsa Jean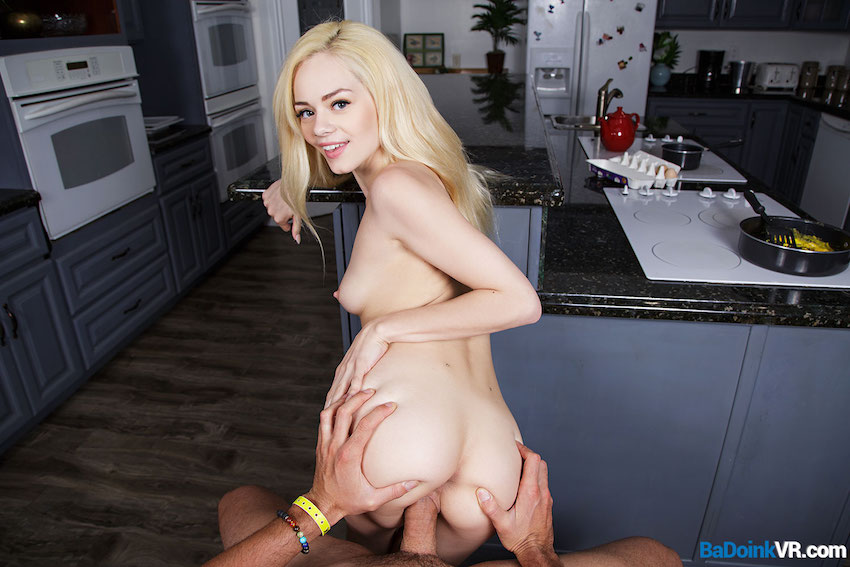 Elsa Jean is pretty much a virtual reality porn superstar. Elsa has been in the business for quite some time now; after all, she started doing porn once she turned eighteen. For your information, Elsa was born on September 1, 1996. She is skinny and petite, and that is precisely what makes Elsa Jean appear so sensual, so glamorous if you will. However, not that long ago, those adorable small breasts were gone forever – yes, Elsa went with breast implants. To be entirely candid with you, I prefer the old Elsa Jean more! Still, every time I see her, Elsa Jean makes me experience a tingling sensation.
Instagram: instagram.com/elsajeanofficial/
Twitter: twitter.com/elsajeanxxx
Gabbie Carter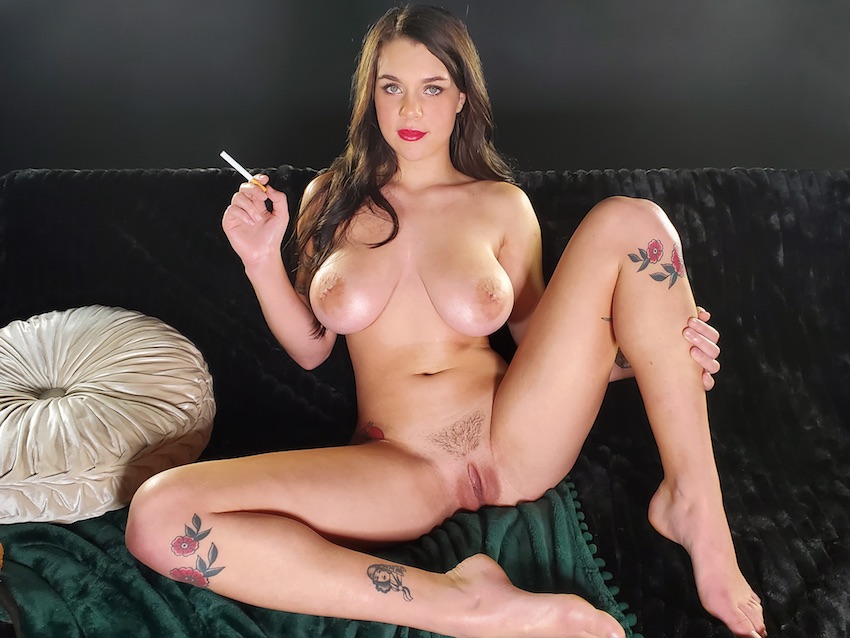 Gabbie Carter is a VR pornstar who is cute and perverted both at the same time. Seeing her on the streets, you would never say she does porn. However, seeing her in an XXX video, you will think, "This babe is ideal for the adult entertainment industry!" Yes, that is precisely how Gabbie Carter rolls. She is outstandingly hot and sexy, with a pair of large, 32DD breasts that will make your eyes go wide. Gabbie entered the Smut world as soon as she turned eighteen, and went to make some noise right from the get-go. Although she is new, you can already enjoy tons of content from this outstanding blonde hottie.
Instagram: instagram.com/imawful69/
Twitter: twitter.com/gabbiecarter00
Adriana Chechik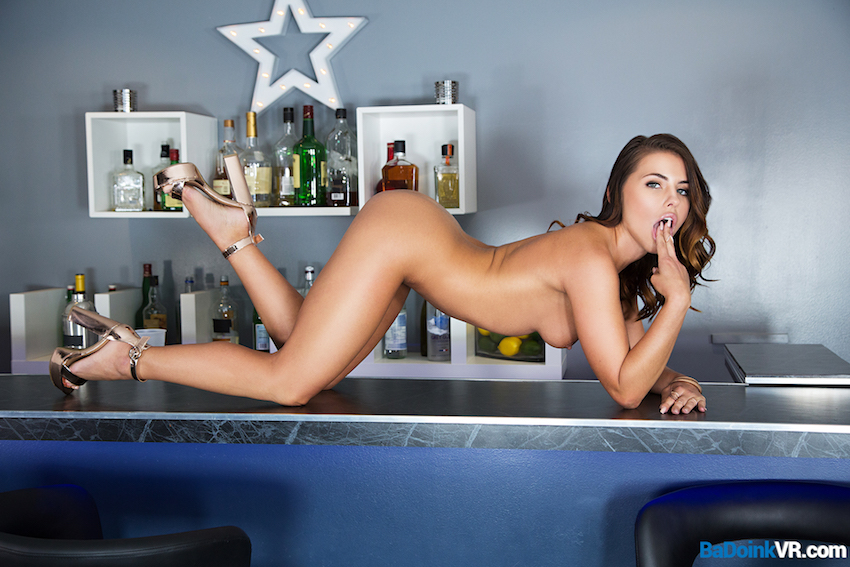 You'd have to have been living under a rock for your entire porn-consuming career to have never heard of L.A. based cream dream, Adriana Chechik. This five-two, one hundred and ten pound spinner is a phenomenal performer across the board, but her talent can only truly be captured in stereoscopic VR. Whether she's taking on a group of well-endowed dudes, or chowing down on a buffet of pussy with her gal pals, she'll never fail to engage her viewers with her soul-seeking eye contact and unfiltered dirty talk.
Instagram: instagram.com/bratnasty69/
Twitter: twitter.com/adrianachechik
Riley Reid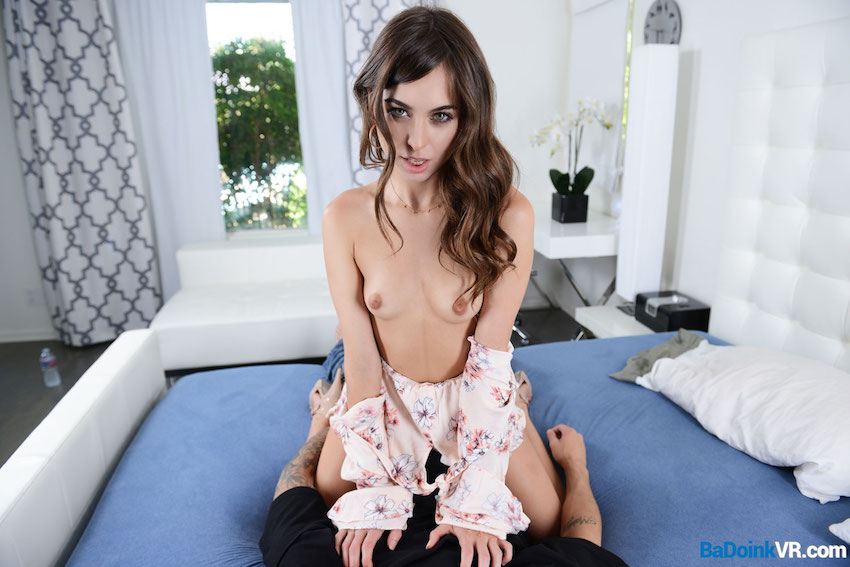 Riley has been shooting porn she 's onlyas twenty-years-old. Now, seven years in the biz, she's only getting better with age. As a self-proclaimed exhibitionist, there's nothing that gets her off more than the knowledge that millions of people around the world are enjoying her scenes. She now has nearly 2 million followers on her personal Instagram account so if you want to be sexy BTS photos and exclusive content, that's a good place to start. That being said, if you really want to see what she's all about, there's no better way than watching her perform up close in VR.
Instagram: instagram.com/baconbootyy/
Twitter: twitter.com/rileyreidx3
Bella Rose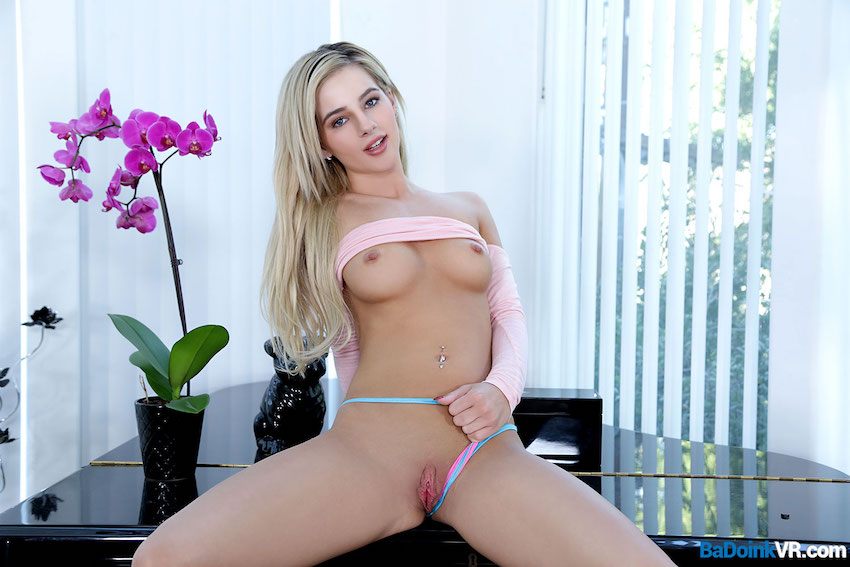 Bella is one of those girls that many people would say is "too cute for porn." Her petite figure, perky B cup tits, and crop of blonde hair make her the archetypal girl next door. But take it from us, she's not as innocent as she appears to be. Don't get us wrong, Bella's 2D performances are truly masterpieces in their own right, but nothing beats watching this tiny blonde rocking back and forth on a phallus in virtual reality.
Instagram: instagram.com/bellaeliserose/
Twitter: twitter.com/xxxbellarose
Britney Amber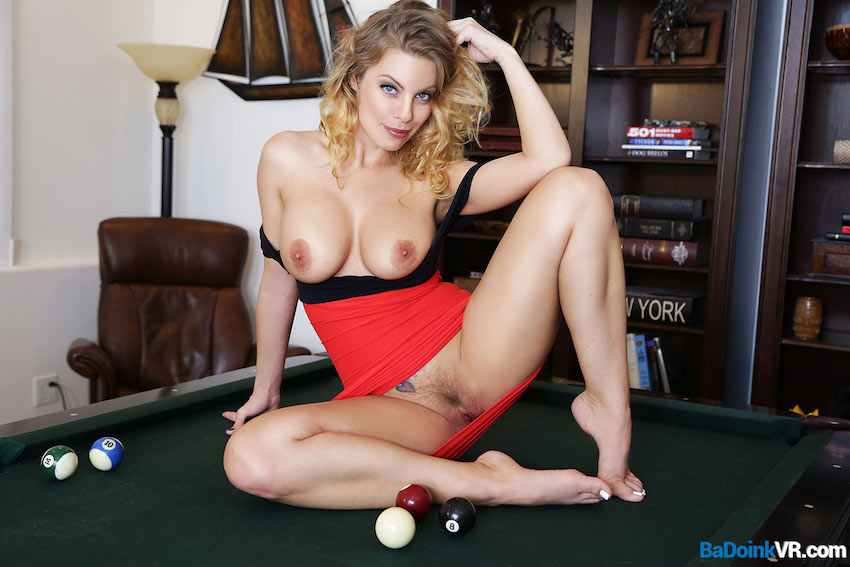 When you watch Britney Amber in VR, it's almost impossible to choose where to focus. Then again, we've all had worse problems, right? Whether you're transfixed in her aqua-blue gaze, or bamboozled by her expertly augmented D cup tits, there's something to appreciate from every angle. If her killer body isn't enough for her, grab your VR headset and brace yourself for a performance that's fully charged with enthusiasm and lust. Britney's dirty talk is enough to make you feel like you need a shower and when she's whispering sweet nothings into your ear, you'll feel the hairs on your neck rise almost as quickly as your dick.
She is a real angel. Her face is one of a goddess! She has eyes looking straight to your soul! Her smile is shining, and her boobs are sometimes shining, too. It is something very peculiar of her! In her photoshoots, she is really into shimmer! She has experience of more than ten years. With all those movies and clips produced, we can honestly say that she has fucked most of the male artists in the branch! Her specialty is the pro blowjob that every man would kill for!
Instagram: instagram.com/britney_amber/
Twitter: twitter.com/britney_amber
Keisha Grey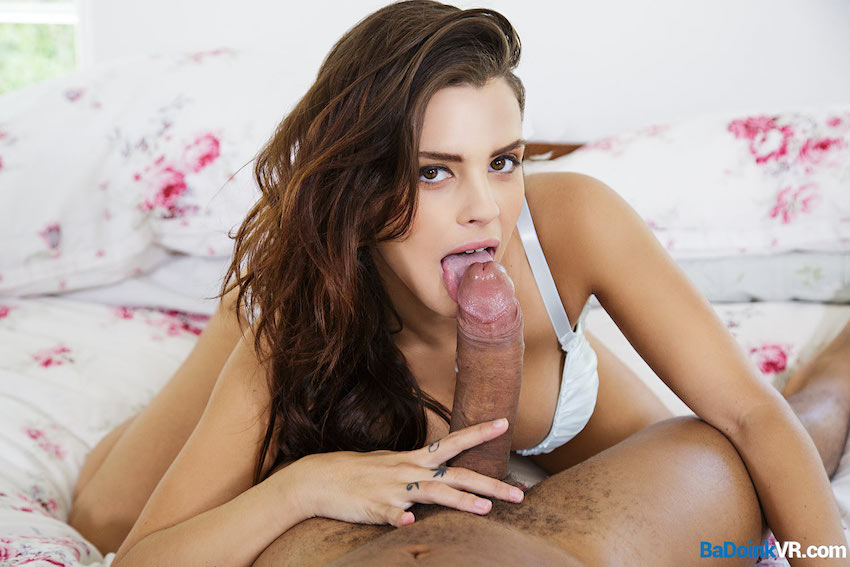 After five years in the industry, Keisha Grey has learned exactly what her fans like. This busty DD-sporting twenty-four-year-old is an expert of all things interracial. Her firm rack, plump ass, and sexy smile make her a force to be reckoned with. This girl was truly made for VR. Whether she's just biting her lip in what seems like an endless teasing session, or riding you like she's competing in the Kentucky Derby, her VR performances will make you feel like this living legend is right there in the room with you.
Instagram: instagram.com/littlekeish/
Katie Morgan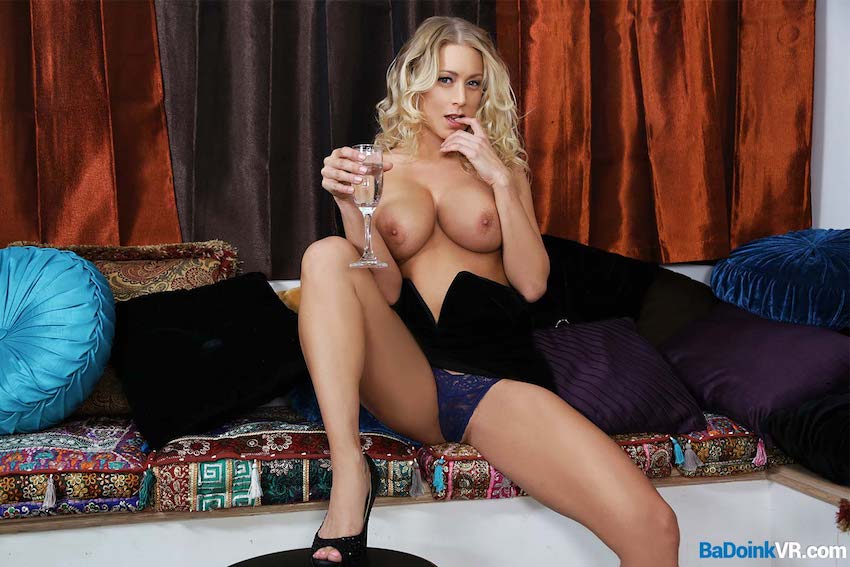 Certified MILF, Katie Morgan has shot countless skin flicks, but also a number of mainstream movies and TV shows. This AVN hall of famer has truly earned her legendary status. Her mouth welcomes more people into it than a Wal-Mart greeter and her ball-draining skills are unparalleled. She's one of those girls that looks her best when she's on your knees. If you haven't seen Katie in VR, you haven't seen Katie.
Instagram: instagram.com/katiemorganxoxox/
Twitter: twitter.com/thekatiemorgan
Alexa Grace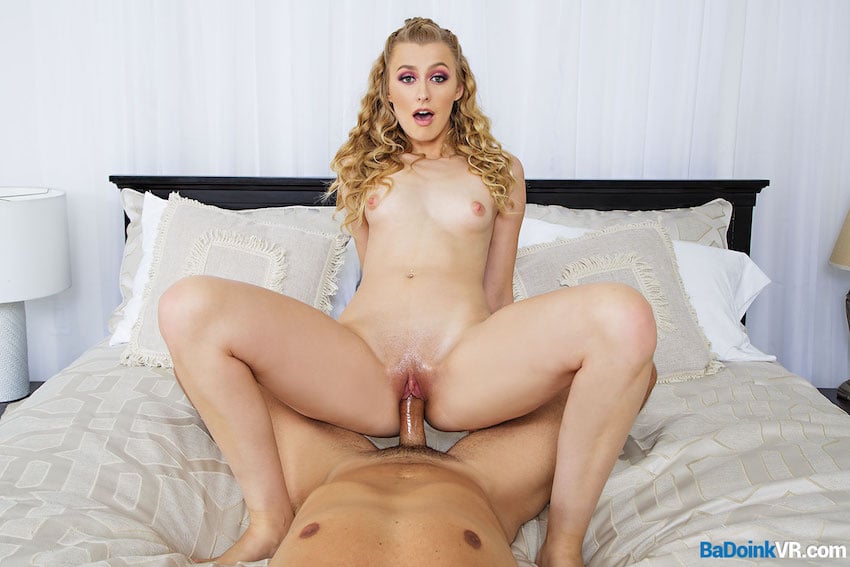 Tall, slender, blonde, and untouched by the knives of plastic surgery, Alexa Grace is one of the original natural beauties of porn. Now with a handful of VR scenes under her belt, Alexa sure knows how to perform specifically to VR audiences. As an expert in eye contact and teasing, she will transport you to a whole new reality, at least for thirty minutes.
Instagram: instagram.com/officialalexagrace/
Twitter: twitter.com/alexagracexxx
Megan Rain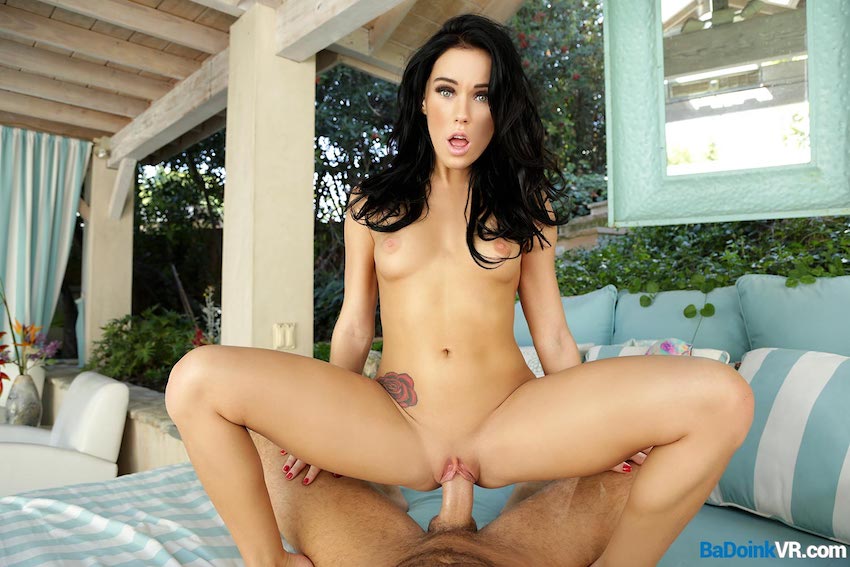 At just five-foot-one and not even a hundred pounds, it's truly amazing what Megan Rain can do with her body. This petite spinner has numerous industry accolades to outstanding performances in oral, anal, and squirting scenes. Being the playful little thing that she is, you can always rely on her VR performances to take you to another world. There's no more profound sense of excitement than watching this little brunette stripping right on top of you in 180 degree stereoscopic VR.
Instagram: instagram.com/meganloveonme/
Twitter: twitter.com/littlesexbuddha
Angela White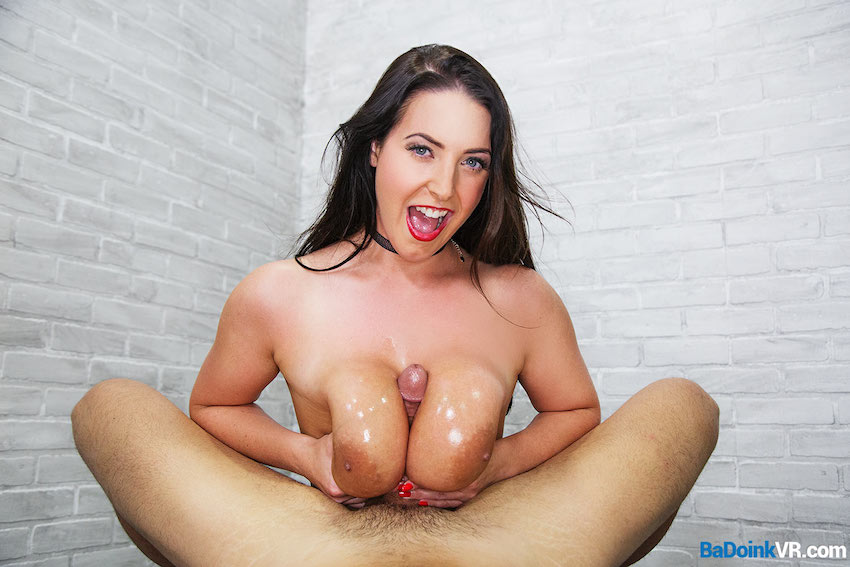 The wonder from Down Under known as Angela White is one of God's greatest gifts to VR. Her breathtaking 42G cup tits are more than a handful. When you combine a huge rack like that, a gorgeous face, and a sexy Australian accent, you get a VR experience that can't be beat.
Instagram: instagram.com/theangelawhite/
Twitter: twitter.com/angelawhite
Aidra Fox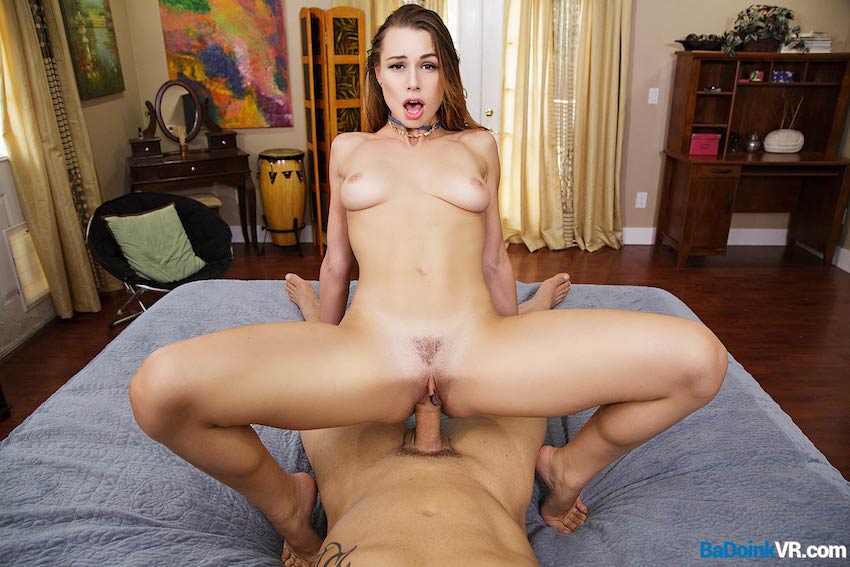 Fox by name, fox by nature. Country girl Aidra Fox is another one of those girls that you just have to see in VR. Her tight, fit body, super grabbable ass, and ever so accommodating mouth are just a small sample of her best qualities. When you're watching this undeniably sexy brunette perform in virtual reality, you'll also pick up on the subtle notes of her Midwest charm. If you're looking for a girl to talk dirty with you in the bedroom but to also introduce to your parents, you may have just found her.
Instagram: instagram.com/xaidrafox/
Twitter: twitter.com/xaidrafox