I believe everyone will agree with the following statement: it's impossible not to like the beautiful pornstar, Aaliyah Love. When picking the word "beautiful," I needed to think twice before writing it down. Not sure if it's the right word when describing Aaliyah. The reason is, I believe adorable and cute should be the words that perfectly fit Love. Moreover, she is not only absolutely stunning on the outside, Aaliyah has a very warm and down to earth soul as well. As a whole, Aaliyah is definitely one of the most eye-catching girls in the adult entertainment industry.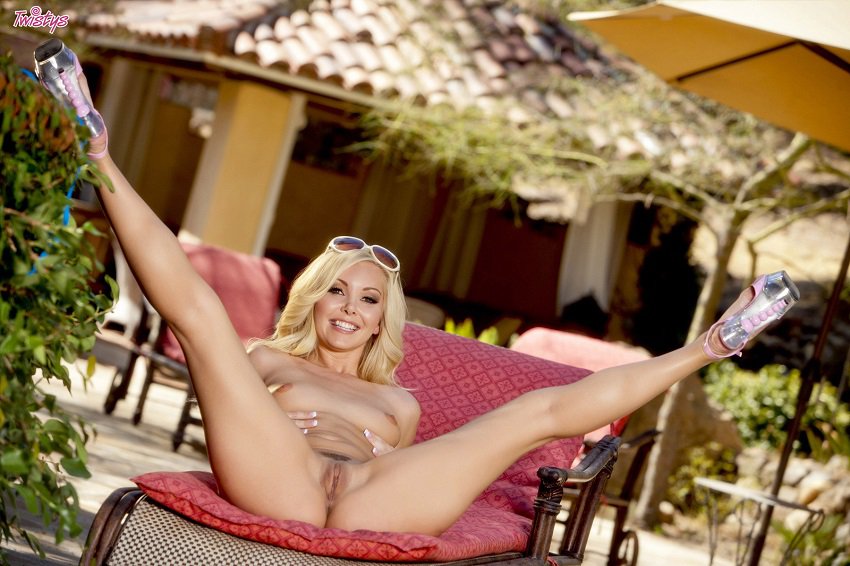 Combining her personality with the insane and petite body, Mother Nature granted her with, Aaliyah drives the whole world crazy. The reason why her fame skyrocketed soon after pursuing the porn business is not only due to being gifted with so many goodies but due years of experience too.
Born in a small cornfield town in Illinois, Aaliyah was very shy and quiet growing up. Not to mention, she really got made fun of a lot in high school. Poor little girl. Later, Love went to college to become a pre-school teacher while at the same time already worked as one. Unfortunately, teachers' salaries are minimal and caused Aaliyah to go broke.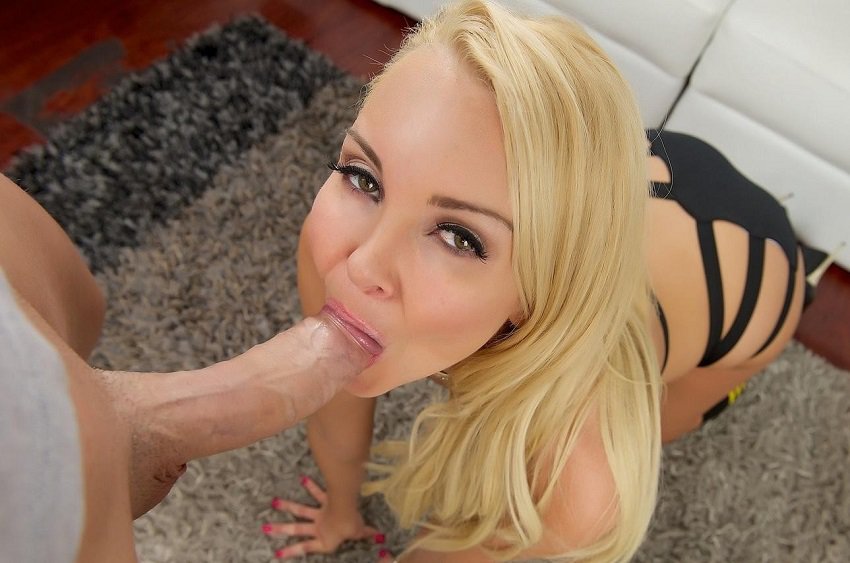 One day, when checking the adult section in a newspaper, she found out about this high paying job. It took her several months before Aaliyah finally grew courage, made the call and learned more about the gig. It was a webcam job for this dude who turned his parents' house into a webcamming facility. In a very short period, Aaliyah Love became their top cam girl and got an offer to become a spokesperson for the company. Of course she took the opportunity and the rest was history.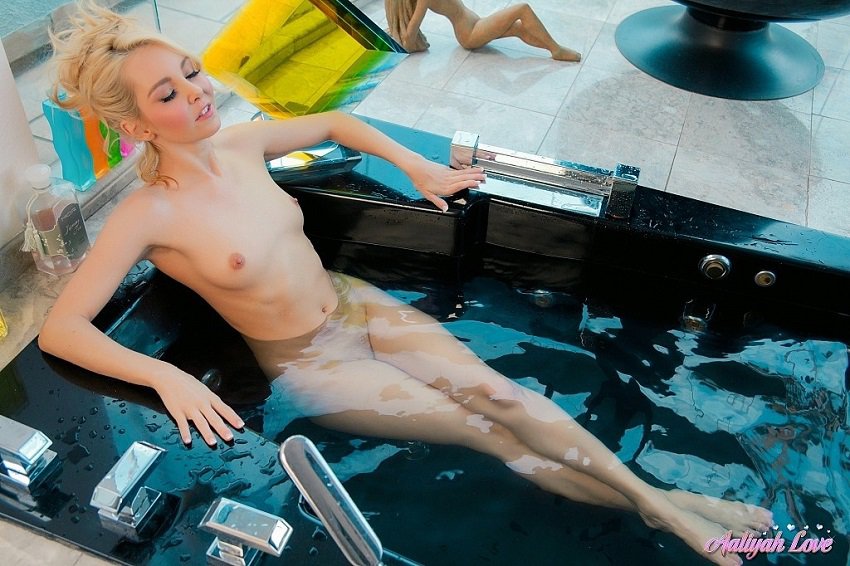 Working for the company, Aaliyah was sent to many porn parties and slowly and gradually became closer to getting herself into the adult business. First, Aaliyah started shooting some really amateur solo scenes which later grew into more professional shoots. Being a shy and not very sexual person, it took her quite some time before she first started shooting girl-girl scenes. When getting more comfortable, Aaliyah Love finally decided to take the plunge and start performing boy-girl XXX scenes, too.
Fun fact: Before Aaliyah pursued adult career professionally, she was a huge fan of porn. Nowadays, it really bums her out since she cannot masturbate to dirty flicks anymore, knowing everyone in the industry.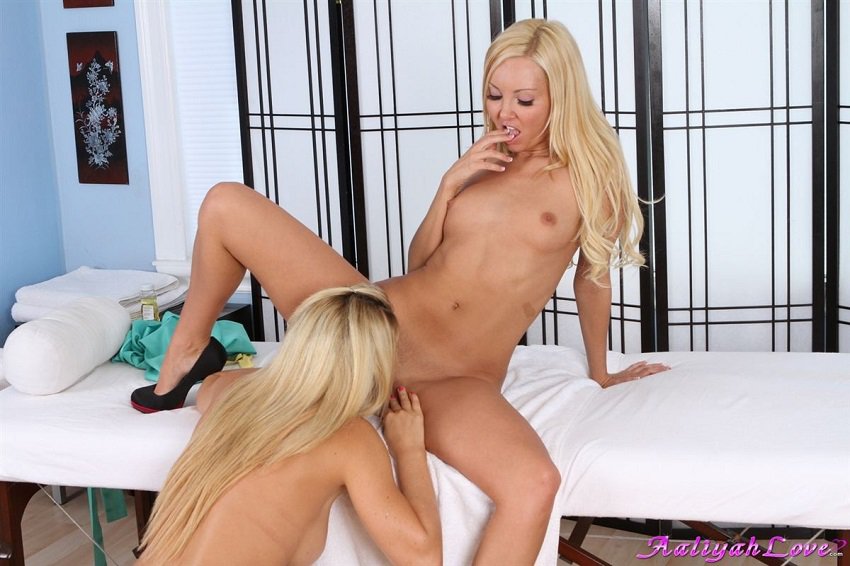 Look at her today, she masters both GG and BG scenes. Not to mention, Aaliyah is a true webcam veteran who had sex with a girl for the very fist time live, during a cam show. And the other lady didn't even know it was her first timer. Well played! However, she did spend sexy moments with them earlier but the furthest she came was kissing and touching.
By the way, Love lost virginity to a boy when she was 16 or 17 years old.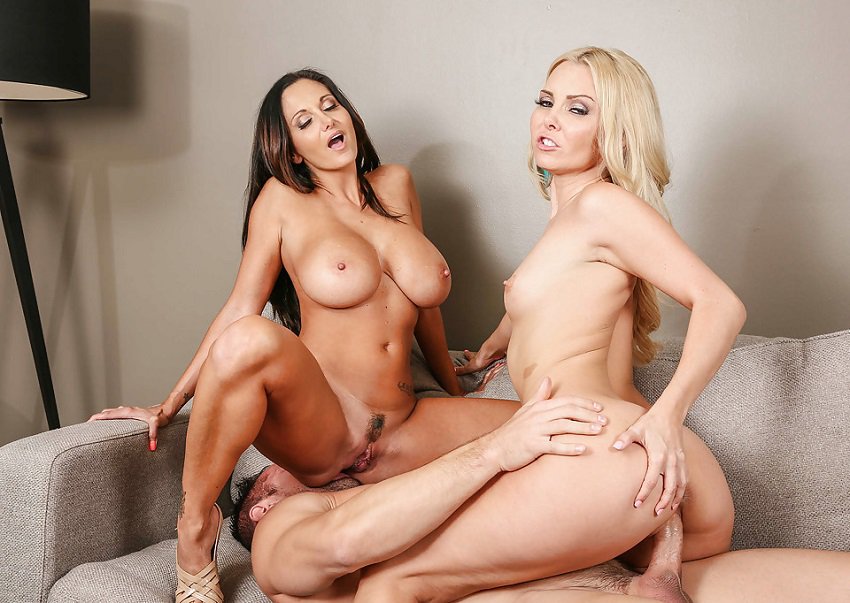 Though being a shy lass in her teens, Aaliyah Love grew into a real woman. Furthermore, if it wasn't for pornography, Aaliyah would probably never tried and found all the things she absolutely loves when it comes to pleasure.
For instance, Aaliyah is very, I mean, VERY, good at this fetish called SPH aka small penis humiliation. Watch her demonstrating the humiliation on Holly Randall who pretends to be a boy with a small penis in the video below.
No matter what you are into, there's a fetish for that and a girl willing to shoot clips for it and sell them to you. The whole internet thing made people explore their sexuality in a way they probably never would. Hurray for the perfect match; porn + internet.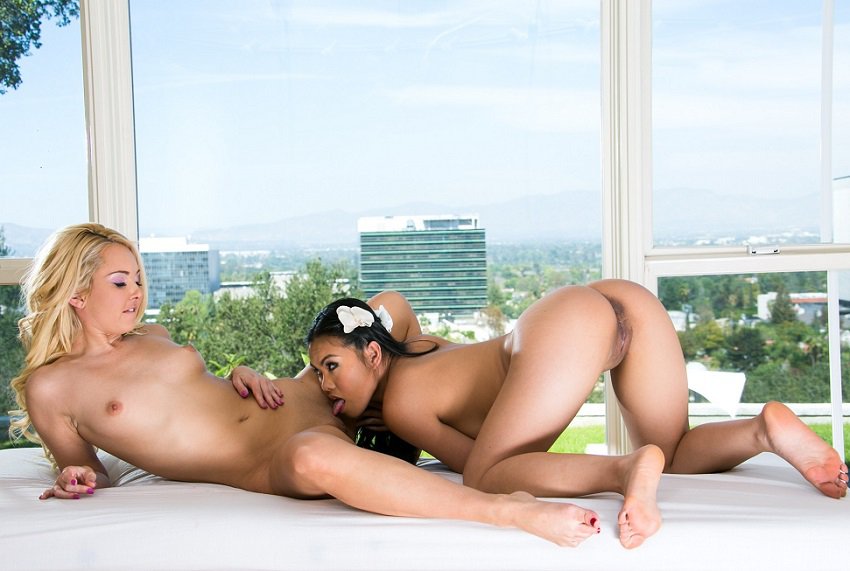 When you browse the world wide web, you can find Aaliyah all over the place. You can discover a ton of naughty content featuring this lovely creature on pages like Digital Playground, Brazzers, Digital Sin, Babes and many more. Plus, Aaliyah runs her official website, AaliyahLove.com, where she posts a ton of exclusive content.
To get more on a personal note with Love, feel free to follow her on Instagram and Twitter. Make sure to shoot her a message or respond to a post and interact with her.
Get ready for the hottest Aaliyah Love porn videos
The interracial lesbian threesome that will leave you speechless

Are you ready for the most mouthwatering lesbian threesome of your life? If so, hit the play button above and enjoy three hotties, Starring Aaliyah Love, Kissa Sins and Chanell Heart, to the fullest. These three lick assholes and pussies like there would be no tomorrow. What's best? You get to see it all first hand. Sit back, relax and enjoy the amazingness that these three smoking hot babes bring to the table. You will not regret it – not even for a second! Can you guess who cums first? That's something I will not tell you, see it yourself instead.
Aaliyah Love enjoys Chad White's thick prick

When blonde sweetheart, Aaliyah, is working late and running out of time, preparing for tomorrow's meeting, Chad White comes at the right time. Love is in desperate need of some relaxation, and when Chad helps her out, finding the missing piece of paper, all the rest becomes history. All of a sudden, Aaliyah Love is all over Chad, kissing him and touching him by his cock. Little does she know, Chad is hiding something big down his pants and she is excited to investigate him further. Aaliyah wastes no more time, goes to her knees and starts blowing his huge cock that soon grows into a rock solid prick. From then on, it is all about fucking each other's brains out until Chad ejaculates all over Aaliyah's pretty, glasses-wearing face.
It all begins with a sexy solo masturbation action

The same way she kicked off her adult career, so will we start this top collection of Aaliyah's nasty flicks. Yep, you guessed it right, here is a hot self-pleasuring video for you featuring the most adorable of them all, Love. What a LOVEly little babe, taking care of her tight twat.
Wearing erotic green lingerie, Aaliyah slowly strips out of it and goes straight to taking care of her pink muffin. For a quick warm up session, she fingers herself first before puts a dildo to a good use.
I will tell you only one more thing; blonde Aaliyah sure does know how to tease and seduce. Damn, she really is good at it. It's probably due to her cuteness why I find her being so good at everything she does. Combine the rub sesh and the cute face and boom, you have a solo session you don't want to miss in your life.
Prom night starts with pussy pleasing

The way a girl should approach prom night is by rubbing one out. Not exactly, but that's what Aaliyah Love does. However, as horny as she is, she cannot control herself when the need to please herself arises. Though her parents told her to not do it, Aaliyah can't hold herself back and goes for it while wearing that gorgeous pink dress. It's a quickie since her date is already on his way to pick her up.
Let it be only an immediate and short twat fingering session, it's enough for young Aaliyah to reach an orgasm. I guess that's how she gets rid herself of nervousness.
Girls, when you are nervous or whatever, play with yourself, and you'll feel calm and relaxed right away. Just have Aaliyah as one to look up to.
A redhead and a blonde take care of each other

Following Aaliyah's career one step at a time, here is a girl-girl scene she performed with Veronica Ricci for Babes. Earlier in her porn career, Love did only solo and GG shoots.
Being a natural at acting, as well as teasing and pleasing herself and others, Aaliyah Love's popularity exploded amongst porn fans. Not only the fans, porn production companies, too.
Anyway, this super sexy and erotic lesbian action will knock your socks off. I seriously mean it. Two piping hot misses fully aroused and ready to tease and please each other. What else do you need in your life? I get it, you would want yourself in between the redhead and the blonde beauty. Press the fantasy button and enjoy imagining yourself in the scene while they enjoy eating and fingering one another out.
Two blondes spend naughty moments in the bathtub

And now the real info that will strike you all the way to the bones. Tempting Aaliyah gets joined by no other than the one and only, Anikka Albrite, in a vivid lesbo show.
While enjoying herself in the warm tub, Anikka urges Love to get herself ready for the lunch. However, the water feels too good and instead of getting out, she invites Albrite to join. Will she refuse the offer? Of course not, you silly! Anikka quickly slides out of that tight dress and joins her already nude girlfriend.
Just a few short moments pass and they are already all over each other, completely forgetting about the hunger. As a matter of fact, the only hunger they start to experience is the hunger for each other's va-jay-jay. It's Anikka who offers Aaliyah Love oral sex in the bathtub and Love who pleases Anikka on the bed. You are in for a double dose of orgasms.
Hardcore blowjob by lovable Aaliyah

Guys and girl, don't be fooled by her looks. No innocent girl Aaliyah is. Completely opposite. She can be very naughty when it comes to sucking a hard cock. She will deepthroat it and gag and make her eyes filled with tears and makeup look like of a cheap whore who fucked a hundred guys in a row. Need proof? Don't look any further, you can find her epic process of a throated blowjob in the video above. It gets wild and wicked, just like all of her fans like it.
Enjoy yourself watching Aaliyah face fucked and completely destroyed by a strong shaft. Not to mention, her mouth loaded with a portion of cum.
Big black cock for a petite blonde wife

Though they don't have sex much, Aaliyah and her hubby have a very open relationship. Especially when it comes to their fantasies. What truly surprises her is the fact how quickly he comes when she mentions how much she would enjoy humping another guy. It's his fetish she found and something that is about to get realized.
Privately, Aaliyah Love quite regularly dreams of being stuffed by a BBC. She enjoys watching interracial porn a lot.
One day, her hubby preps everything in advance. The only thing for Aaliyah to do is to slip into the black lingerie he bought her and lie on the bed. Needless to say, a black and muscular stud joins Aaliyah and the rest is history. Her fantasy is about to come to reality. In amazement, Love tries to take his enormous cock with mouth but obviously, it's too big for the tiny oral cavity. Still, she does her best to give him a pleasurable oral sex. To return the favor and get her warmed up and wet, dude dives deep between her legs and starts to munch on her juicy pussy.
Without further ado, they get the penetration going and make Aaliyah scream of joy and excitement. Fucking and riding the gigantic machete, stud stuffs Aaliyah from the front and creampies her.
Client nails Aaliyah Love hard at the club

Girls at clubs sometimes must feel very lucky when a good looking guy pays them for sex. By the look at her facial expression, Aaliyah really does enjoy getting her cock wallet rammed like there is no tomorrow. It turns out, he is so excited to take care of his blonde goddess, she barely has to do anything. Besides lying on the bench, benefiting from his dong rubbing against her pussy walls and his tongue massaging her clit, Aaliyah does sit on his dick and slides her pink taco up and down its length.
The first ever boy-girl scene for Aaliyah Love

Drop everything that you are currently doing except if it involves your cock or your va-jay-jay. Let's all together put 110% of our focus to the first ever Aaliyah boy-girl scene she shot for no other than Twistys. This already is exciting through the roof, however, there is even more to it.
Lucky Aaliyah gets to choose who the lucky stud would be who will pop her porn cherry. There are six guys but only one gets picked and takes the opportunity to smash that young and fresh pussy for the very first time on camera. Look no further and judge it for yourself how good Love did it. No complaints.
Blonde lesbians lick each other's anuses

Hot and petite blonde miss, Aaliyah, is joined by another blonde sex machine, Tiffany Watson. They go down on each other in a salivating lesbian porn scene that you will love from the first to the very last second.
Each girl takes care of her girlfriend like a true champ and makes her feel like she would be on top of the world. They both put special attention to licking their anuses and ensure one another to experience pleasurable sensations this erogenous zone lets one experience when stimulated. Experimenting with the asshole is always a fun thing to do and watching two hot lesbians doing it, too. Especially when we talk about the hotties, Aaliyah and Tiffany.
Special Halloween live cam show with Aaliyah and Cherie DeVille

In the X-rated world, it seems it is always Halloween. Just imagine today is the happy day and enjoy a special live cam show featuring no other than Aaliyah Love and her MILF lady friend, Cherie DeVille.
While answering questions, Aaliyah and Cherie slowly get rid of their sexy Halloween costumes and throw down an exclusive performance for all you to enjoy. How far they go with teasing each other and munching on one another's pussies I cannot tell since I would ruin it all for you. Instead, jump on board, join the sex cam session and get the action going.
Aaliyah expresses her love for a BBC

Apparently, Love truly loves getting her snatch smashed hard by a big chocolate penis. The view from above, seeing her pink muffin stretched wide by a BBC, makes her horny AF. She can barely hold herself back from not cumming the moment the stud eases the monster cock inside her dripping wet vagina. Sliding in and out that love button helps Aaliyah reach a fulfilling extasy that nothing else can achieve.
Watch her reach an explosive climax when the athletic black stud completely destroys her muff. To seal the deal, he sprays Aaliyah's pretty face with a nice load of jizz.
An exceptional solo masturbation session with petite blonde babe

By watching a wide variety of free XXX scenes featuring Aaliyah Love, you now know that this stunning blonde lady never disappoints. She is tiny and slender and owes a lovely pair of breasts which joyfully bounce up and down whether she vividly fucks herself or rides a stiff rod.
This time, Aaliyah throws down an insane solo performance in front of a golden wall. With her legs spread wide, she penetrates her pink taco with a dildo and brings herself to a bombing orgasm just for you. Do yourself a favor and become part of this amazing masturbation session.
Massive facial for a horny blonde

There is no need to prove anybody that yours truly, Aaliyah Love, absolutely loves facials. Yes, you read that correct. Warm jizz dripping down her face is something Aaliyah is always down for. But before any of that happens, Love gives this large cock a blowjob of the century. The size of it is way too large for tiny Aaliyah but she still manages to handle it like a champ.
From an intense head, Aaliyah gets her juicy pussy stretched wide in a doggy and a missionary position. She moans so loud, you can almost feel the vibrations. That's how much Aaliyah enjoys the vivid fuck session. For an icing on the cake, Aaliyah gives it one last suck before it explodes with spunk and spays her entire face.
She desperately wants a baby but who will get her pregnant?

It is the time of the year when Aaliyah, again, has baby fever. Yes, she absolutely wants to have a baby. However, there is a catch. Unfortunately, her hubby cannot get his dick hard anymore. There is another catch, he cannot take the blue pill due to the heart problems he is dealing with.
What now?
After a quick conversation with her best friend, Aaliyah Love does not give a fuck anymore and goes out to corrupt the young boy from next door. Before he realizes it, he is already over at Aaliyah's place, getting his dick sucked on. But more than that, Aaliyah is in need to get fucked properly and filled with all of that fresh semen. Guess what? He cums inside of her but has no idea why Aaliyah is so freaking excited. Why oh why?
Stepsister keeps hitting on her stepbrother until they finally fuck

All the time, Aaliyah Love is acting quite weird in front of Tyler. He keeps on trying to figure out what is "wrong" with her but just cannot figure it out. He is offered full body massages and Aaliyah keeps on walking around the house in see-through tops, wearing no bra. His mind is confused but Aaliyah, well, she knows damn well what she wants.
Finally, she reveals herself one day and tells Tyler she is hitting on him. Yep, such a simple thing and he just could not figure it out. From then on, it is time for some action, starting with kissing. Of course, the stepbrother-stepsister action continues with a wild fuck session that ends with a nice portion of spunk landing straight onto Aaliyah's belly.
Will they repeat the session?
Stepmother seduces her talented stepson and succeeds

One time she is a teen and the other time she is a MILF. I am speaking about none other than blonde and petite hottie, Aaliyah Love. She is an amazing woman who is capable of many things. But today, she enjoys some private moments spend with her skilled pianist who also happens to be her stepson. Watching him play makes Love horny through the roof. She just cannot hold herself back and shows him how moms do a cock.
Love blows his throbbing cock like it never was blown before. He is thrilled. But Aaliyah does not offer him a suck session only. Instead, her vagina gets so wet, she wants his dick to drill her muffin balls deep and cum shower her tiny titties afterward.