Ever since I first saw a scene from pornstar Eva Lovia, I became an instant fan. Her exotic looks, perky tits and big and round ass got me hooked immediately. Oh yes, and the freckles! I am sure there are many out there who found themselves in the same position. Nothing wrong with that. We are all just humans who go crazy for an enticing girl who rides and sucks cocks like there would be no tomorrow.
I always found Eva very glamorous. She is this delicate babe who I never thought she would ever film an anal scene. I never even thought about Eva doing a double penetration porn. Well, all these pretty girls have this wild animal hidden somewhere deep down. While many never get a chance to release it, Eva is not your ordinary girl. Once Greg Lansky took her under his wing, Eva was ready to do extraordinary things. Yes, she shot her very first DP scene for TUSHY and you should definitely not miss it.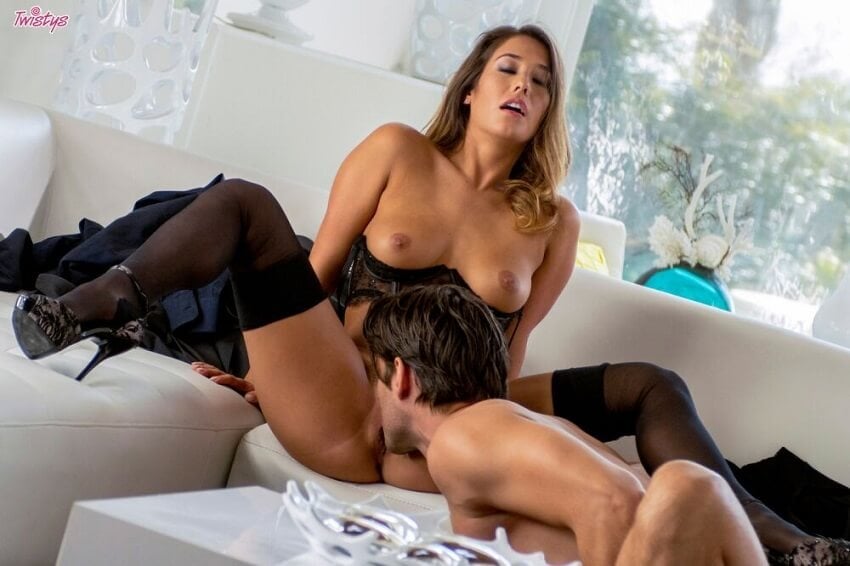 But let's go back when Eva was still a kid. Growing up in New York, Eva Lovia was this shy kid who wasn't really into trying out things. She met a boy at 13 and dated him for 6 and a half years. It was only in her early 20's when she finally found the power of her pussy. Up until then, Eva was more of a family and school kind of a girl. You know, the good chick. But those, we all know, eventually turn bad and Eva is the perfect proof.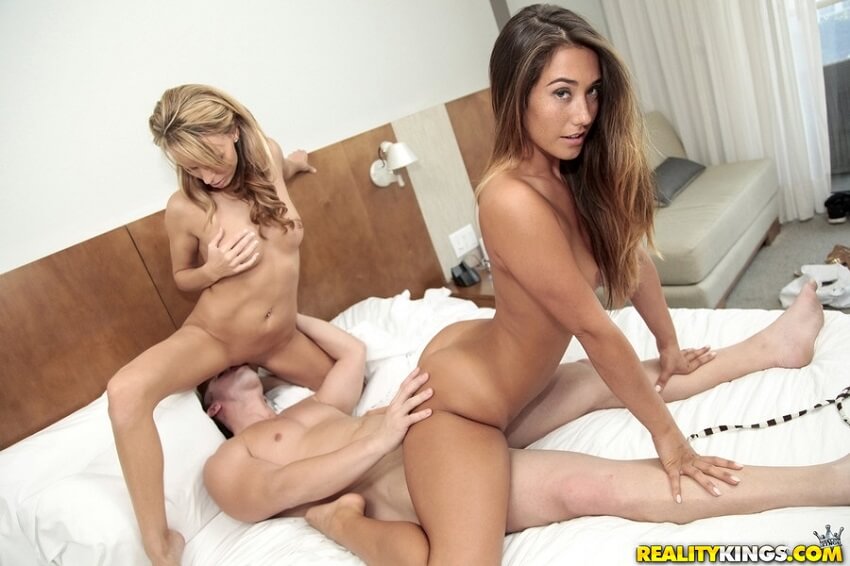 Born on May 29, 1989, Eva's first job was a Target cashier at the age of 15. But ever since she was 5 years of age, Eva wanted to join the adult entertainment industry. Even her mother did some lingerie modeling when Eva was still just a kid. Thanks to her mother, she made her family a bit more comfortable with the modeling and the nude world. But it was Eva who dived in at the age of 24 and joined the porn business.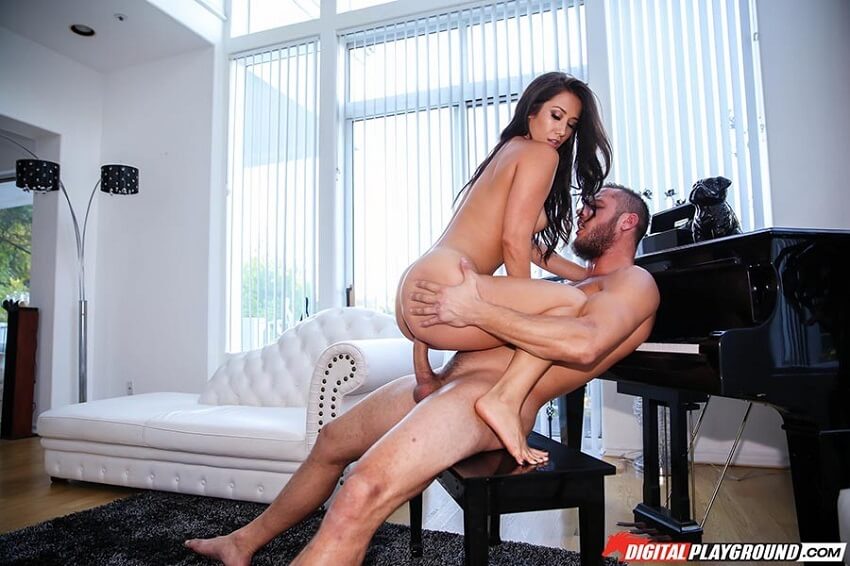 At the beginning, the half Spanish hottie, Eva, did only solo and girl-girl scenes. She took the slow and steady approach to adult biz. For the first couple years, Eva was successfully growing her fame and popularity as a GG performer. It was very easy for her since she is seriously into women. It felt almost natural. However, eventually, Eva Lovia expanded her repertoire and started shooting boy-girl scenes, threesomes, anals and so forth. Nowadays, Eva is unstoppable when it comes to having sex in front of the lens. If she feels comfortable doing it, and is in the right hands, Eva will do it all. Let's see what the future hold for this extremely sexy lady.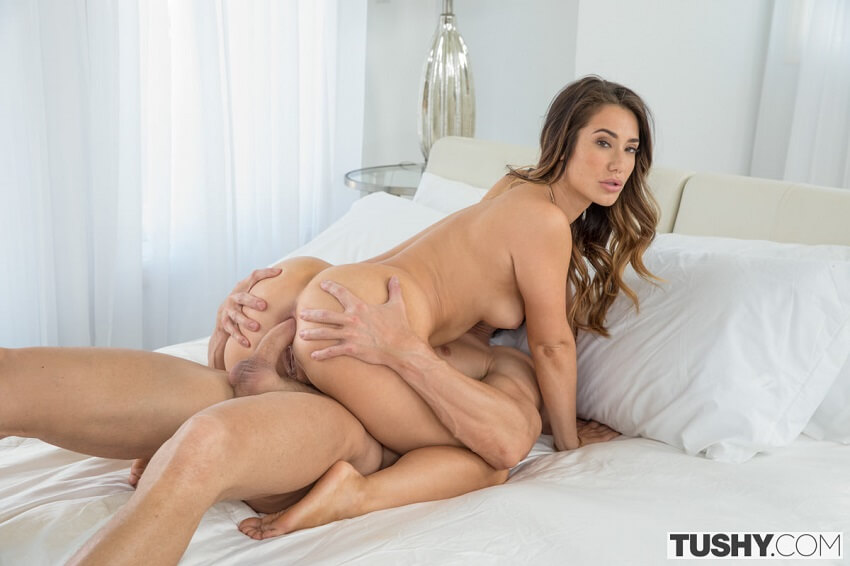 As for her stage name, she always liked Eva. She found Eva Longoria and Eva Mendes the hottest chicks in the world. For the last name, she stuck with Longoria, Eva just wanted to make it sound pornier. After some word play, Lovia came out and the rest was history. She trademarked it so wherever you see Lovia on it, she owns it.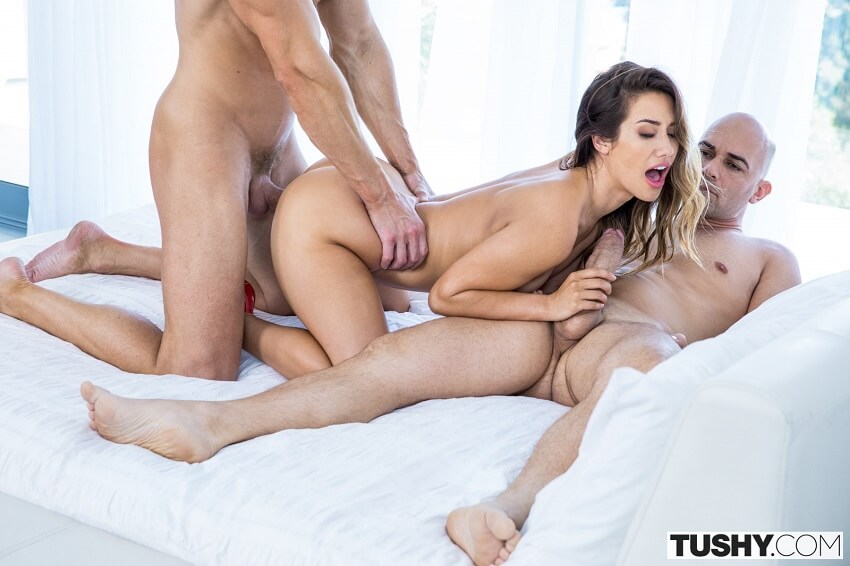 You better follow Eva on Instagram and Twitter for more hotness after all these free porn videos we have ready for you.
The outstanding solo that you do not want to miss

Give her a green dress and a white sofa to relax on, and Eva will bend your mind with her outstanding solo performance. First, she will seduce you with a few looks straight into your eyes. At this point, you are already hooked on all the amazingness that Eva Lovia has in store for you. At this point, she pops her boobs out, and she quite quickly moves with her hands down, massaging her already swollen clit. However, she strips down completely nude, moves to the sofa, and gets on with a super fulfilling solo masturbation session for your convenience. Watch Eva as she progresses to a pleasurable climax right in front of your eyes.
Erotic lingerie and vivid pussy fingering

I could literally watch Eva's solos scenes for hours and hours and never get bored. I just do not know if my manhood would handle it. Anyhow, if you are interested in more hotness from the one and only, Eva Lovia, you better not miss this Twistys video that will surely capture your interest right from the get-go. Slowly and seductively, she strips out of the tempting outfit and pantyhose, and only once fully nude Lovia goes down on herself. That finger fucking gets more and more intense until she cums all over herself. And now, I will hit play again, just so I know I did not miss anything.
Eva and Riley prefer staying indoors, enjoying themselves

While Riley Reid is hyped to go outside and jump into the warm pool, Eva would rather stay indoors. It is warm and it is comfy, what else do you need? As it turns out, that ends up suiting Riley perfectly, too. These two smoking hot brunettes do not waste too much time, as horniness overcomes them almost instantly. They first start touching each other what makes them giggle and get the juices flowing. Sooner rather than later, they are naked, eating each other's pussies out, fingering and even tribbing (aka scissoring). They only realize how horny they actually were once they witness a speedy orgasm.
Lucky dude fucks GF and stepsister

Ever since they became a stepbrother and stepsister, the two of them had a crush on each other. Unfortunately, he has a girlfriend and just does not want to cheat on her. Eva, his stepsister, is constantly playing with him, teasing him with her outstanding body. He keeps on refusing the offer, as he does not want to get into trouble. Little does he know, when he is not around, the ladies enjoy themselves to the fullest. One day, he walks into the room when his GF is just eating Eva Lovia out. With a hard dick, he joins the lesbian experience and turns it into a vivid threesome fuck session.
She prefers a load of jizz on her chest

When she appears in that little black dress, Bambino cannot hold himself back. Instead, he immediately joins Eva by the window, slowing pealing that dress off, revealing her perky boobies. Sooner rather than later, they find themselves on the bed, Bambino fingering and licking Eva's pussy until it gets dripping wet. Sexy babe returns the favor with a succulent blowjob which gets his thick, big cock to throb. When both fully aroused and ready for the action, he penetrates that tight vagina and fucks the living daylights out of Eva Lovia. Once he reaches the point of no return, Lovia wants him to unload his cum all over her chest.
A boob massage leads to finger fuck leads to squirting

When you offer Eva a boob massage, she will not hold herself back a slight bit. Instead, she will let herself loose and enjoy your strong hands grabbing and squeezing her tits. This instantly gets Eva Lovia horny through the roof, ready for the action. Before we go to fucking and doing the wild things, Eva is interested in warming up her pussy with some fingering. And when you properly penetrate Lovia's well-trimmed pussy, she will squirt all over the place. You can imagine what happens next when Manuel Ferrara stuffs her with his thick dick and bangs her in the true Manuel fashion read vividly.
Interracial anal is what gives Eva inspiration

When in need to find inspiration for her next successful novel, Eva decides to incorporate her real-life experience. Becuase, why would she only want to write about fantasies and whatnot, right? That said, Lovia is down to do something she always wanted to experience – an interracial anal. This stud who she ran into a couple of times at the parking lot is more than a perfect match for her secret adventure Eva wants to realize. When the opportunity arises, Eva wastes no time, jumps right into it and invites this handsome black guy over to her place. Boy, is he excited to fuck Eva's asshole and give her the pleasure she always wanted to witness.
She can make everyone cum in an instant

Do you know what Eva's biggest secret is? Indeed, she has no problem getting every dude come almost instantly, even if his name is Mike Adriano. That's how skilled Eva Lovia is! Couple together her talent with her insanely hot looks and you have a winning combination that drives every human being nuts. First, Eva blows Mike's large shaft like there would be no tomorrow. And afterward, he oils up her bubble but and starts banging her juicy pussy with pure passion and enthusiasm. If you wonder if Eva swallows or not, today is your lucky day – you will learn about it out right now.
Masturbating in front of a laptop

When we speak about glamour and luxury, you should not miss this extraordinary solo masturbation session. Sitting on a prestigious couch and dressed in black lingerie, Eva Lovia looks phenomenal. When she starts getting hornier and hornier, Eva slowly strips down and begins playing with her well-trimmed pussy. You will be impressed from the first to the very last moment when she orgasms and puts back on her panties. Starting out as a solo and girl-girl performer, you know Eva always over delivers. She will never let you down, either she is on her own, with a babe or with a stud. At this point of her career, Eva is an experienced girl who is getting only better at what she does for a living.
All she needs are her delicate fingers

Of course Eva needs no sex toy to bring herself to an orgasm. You just let her do her thing and enjoy herself to the fullest and she will climax sooner rather than later. However, in the mean time, Eva will seduce you with her all-natural beauty. Every single time I see that body, my mouth water. I just cannot do anything about it. Not that I am even trying. I get excited at all times just seeing Eva appear on the screen. But when she throws down a strip show and goes down on her, that is almost too much for me. I dare you to watch Eva and stay cool throughout her whole solo session. I know right, you cannot avoid sensing the tingling sensation, too.
You gotta love watching two girls do each other

A blonde and a brunette taking care of each other's shaved pussies in a classic free lesbian porn scene. Meet pornstars Eva Lovia and Michele Monroe. Eva is joined by another smoking hot adult actress who knows a thing or two about licking and fingering a juicy pussy. What you are about to see, my friends, is a very tasty scene which will take care of your fantasies. Especially all the close-up shots of finger penetrating the vagina and tongue licking the clitoris. Those are by far my favorite. As for you, enjoy what feels best for your body and mind. At the end of the day, this whole Babes Loving Babes girl-girl XXX video is a must-watch. Screaming a "Wow" is inevitable.
Lesbian sex on a Christmas Eve

With Eva Lovia, it seems it is always Christmas. Or at least the Christmas spirit going on. This time, Eva and her busty blonde girlfriend, Courtney Taylor, lay on the floor in front of a fire place. It is warm already, but they will make it hotter with their bodies and their passion for each other. Just wait until you see them put their fingers and even a big dildo to use. Their cock wallets get dripping wet and they experience great sensations. I do not know what you wish Santa brings you this year but I know already what my wish is. And I will make sure to be the best boy in the world. I know I will make it happen, so my desire comes true. Hint: it has something to do with Eva and Courtney, I just cannot tell you what exactly.
Femdom Eva gets fucked by her sub

We are stepping it up a few notches, aren't we? We skipped all the sensual boy-girl scenes Eva shot in her career so far and went straight to the fetish action. What can I do, when I find something interesting, I need to write about it right away. In this case, the femdom Eva Lovia punishes her leather mask wearing sub. But it is the good kind of punishment, you know. No one gets hurt rather pleased through the roof. First, he licks Eva's cute pussy, then she sucks his large cock and lastly, he smashes her va-jay-jay hard until he comes all over Eva Lovia's big butt. Do you like this kind of stuff? I know I do!
First double penetration for Eva Lovia

Are you ready for the big moment to happen? For Eva's biggest fantasy of all times to get realized right in front of your eyes? You sure are, huh? Finally, Eva reveals that she always dreamt of being with two dudes at the same time. But not just the ordinary threesome you see over and over again. Eva's biggest fantasy of all times is to experience a double penetration. Thanks to Jean Val Jean and Christian Clay, they are both more than welcome to fulfill her desire and let her feel the power of two cocks penetrating her pussy and asshole in unison. With love sounds filling the room, nothing holds this trio back. They go all in until all reach orgasms and Eva is receives a large facial.
Interracial fuck stretches Eva exceptionally wide

After moving to LA to take an internship at a Beverly Hills talent agency, Eva is left working all the time. She cannot find any free time for herself anymore. For your information, Eva moved in with her sister. Meaning, while not working, she hangs out with her sis. To take some time off, Eva buys herself an hour long massage session to which she later finds out she cannot go. She gives it to her sister and discovers, right on time, that Jason is in town. A college crush.
Eva rushes inviting him over to her place to enjoy the time she is home alone to the fullest. Jason's big black cock is always ready to bang Eva Lovia's always moist pussyhole. Finally, she found an hour or so to spend exactly how she wants. No distractions, no nothing. Eva offers a tasty blowjob what grows Jason strong and makes him ready for the fuck. What to say, Eva was in desperate need of a big and stiff machete stretching her pink muffin wide.