Today's post is about G-String Geisha. This is a Japanese soft-porn movie so obscure…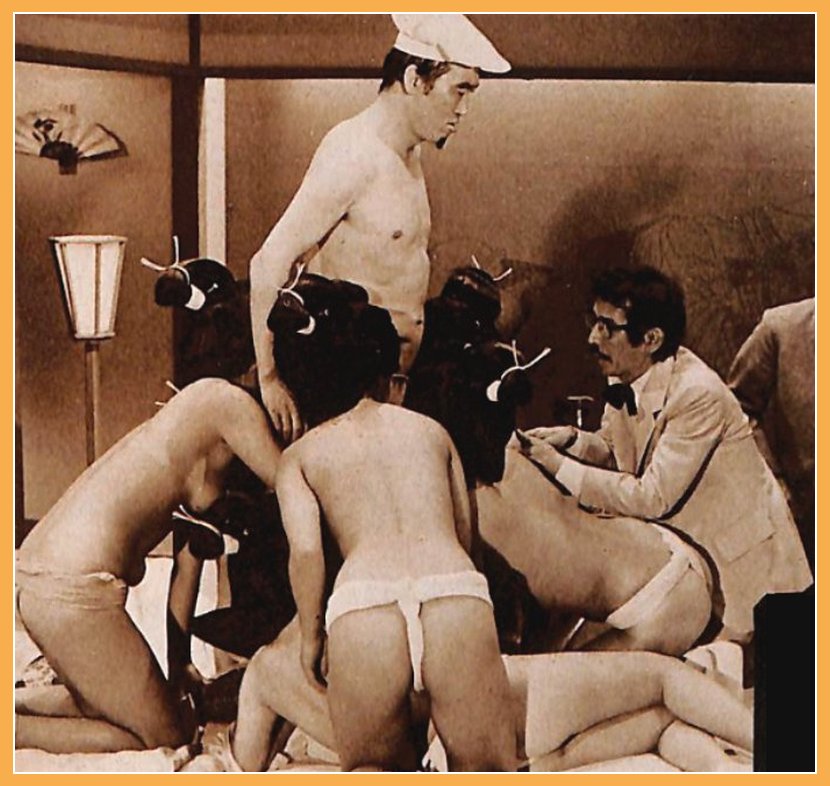 You scoff. "Obscure? But Google knows everything!" I can hear you saying. And perhaps Google Japan, in Japanese, has all the details about this movie. I don't speak Japanese, and I can't type it into a search engine. I couldn't say.
But in English? No, no, and no.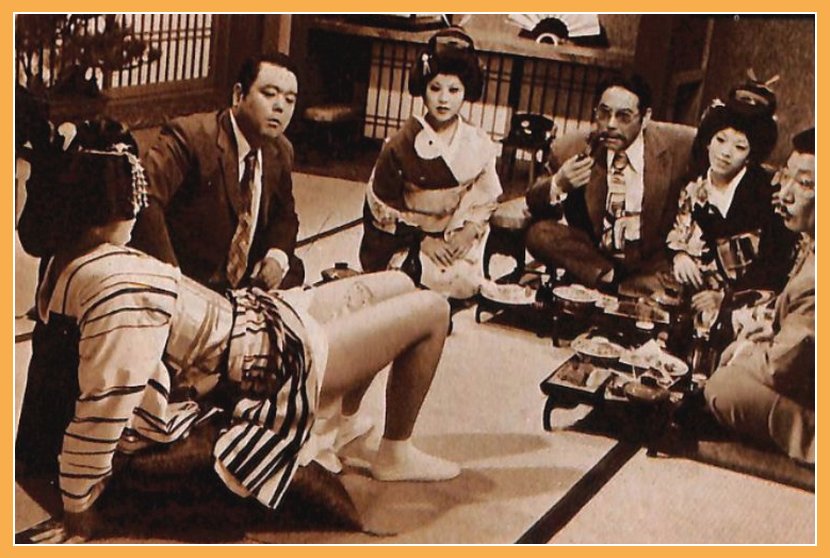 This movie got made in 1975 — that's a year before the USA celebrated its bicentennial, and printed commemorative two-dollar bills — and in those days, it wasn't easy for foreign porn movies to get a lot of attention in the United States.
Five years later G-String Geisha got a two-page black-and-white spread in the November 1980 issue of Adam Film World: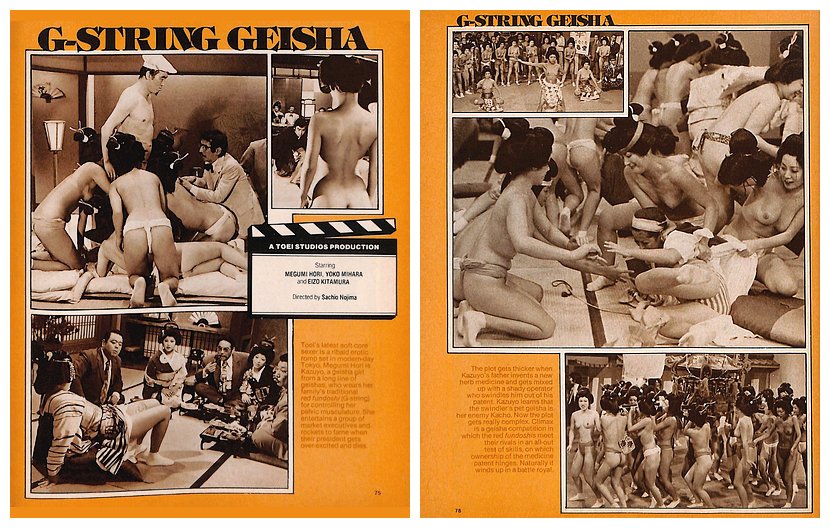 Almost four decades passed before that fell under my eye. (I look at these things so you won't have to.) The happy circumstance came about because The Rialto Report scanned the magazine in question about a month ago, posting it online in an obscure web image format that's easy to see, hard to download, and impossible for Google to index. Naturally I was curious about G-String Geisha, so I Googled it. I got back nothing. I got back the sound of crickets. In truth, what I got back was this bare-bones entry at the Internet Movie Database with a short plot summary:
A young geisha/prostitute working in Tokyo's entertainment district earns a measure of reknown through her powerful vaginal muscles. This newfound fame, however, also earns her the enmity of a rival geisha house. The two houses choose to settle the dispute through a series of athletic contests between the young star and the rival house's main attraction, with the backing of the houses' wealthy patrons as the prize.
Three things bothered me about my Google search and this IMDB entry. First of all, I didn't find any visual material whatsoever. Second, the eight sentences I had found in Adam Film World do a much better job of summarizing this forgotten "pink film" (as Japanese soft-core porn movies of the era were known) than IMDB does:
Toei's latest soft-core sexer is a ribald erotic romp set in modern-day Tokyo. Megumi Hori is Kazuyo, a geisha girl from a long line of geishas, who wears her family's traditional red fundoshi (G-string) for controlling her pelvic musculature. She entertains a group of market executives and rockets to fame when their president gets over-excited and dies. The plot gets thicker when Kazuyo's father invents a new herb medicine and gets mixed up with a shady operator who swindles him out of the patent. Kauyo learns that the swindler's pet geisha is her enemy Kacho. Now the plot gets really complex. Climax is a geisha competition in which the red fundoshis meet their rivals in an all-out test of skills, on which ownership of the medicine patent hinges. Naturally it winds up in a battle royal.
The archivist in me simply cannot tolerate leaving this two-page magazine spread buried in a place where the search engines can't see the images or read the text.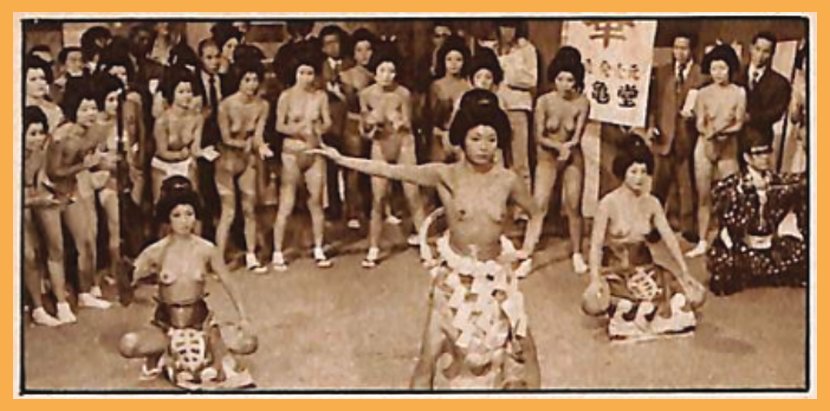 An awful lot of people these days just assume that if a thing exists, it will be in the search engines. Especially if it's any good! Now, Japanese pinky pornos aren't everybody's cup of tea, I'll grant you that, but just look at these photos! This wasn't some cheap production. There are at least thirty people in some of these scenes! A lot of money and effort went into making this thing, and it ought to be better remembered.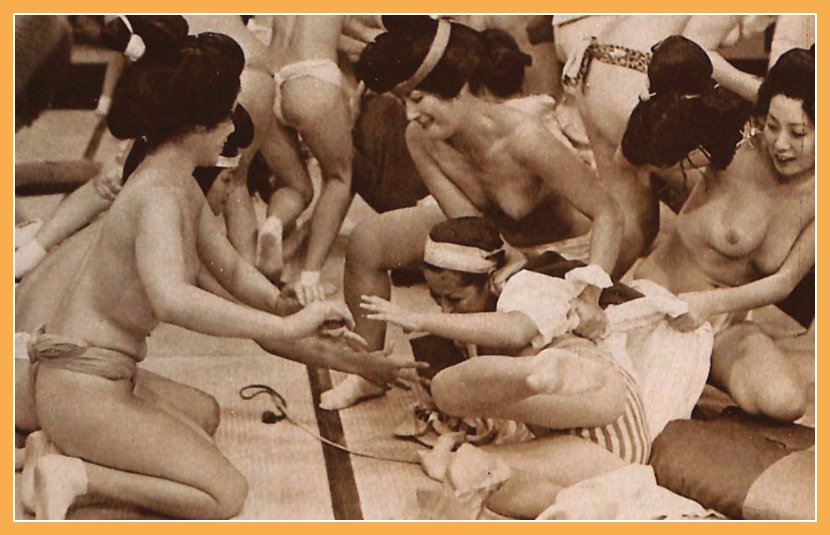 What's more, if you find sex at all amusing — and you do, or why are you here? — the notion of a grand athletic contest and test of pussy prowess between the sex workers of two geisha houses has got to tickle your funny bone. Especially when the setup to the competition is that one of the geisha contestants has already killed a customer with her strong pelvic powers…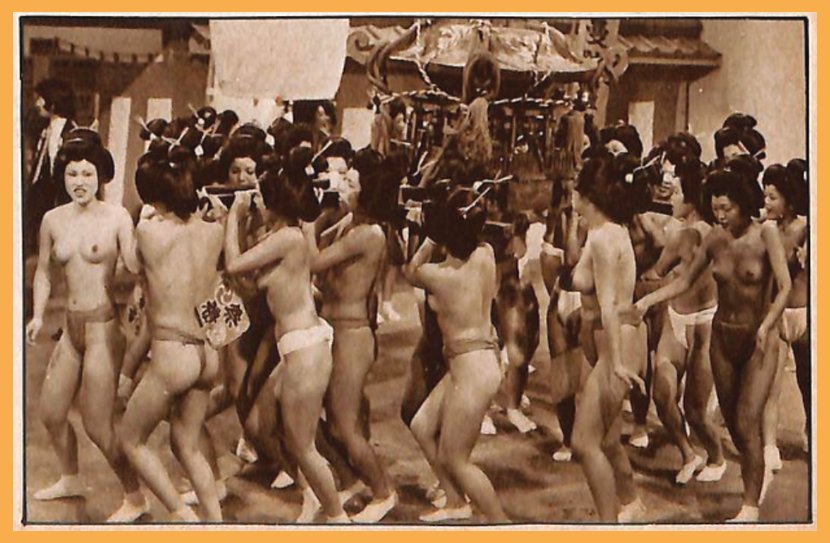 I'm using this vintage Japanese porn movie to make a point: much has been lost. There are many wonderful things in the world of porn that you can't find out about by typing a search into your browser. Fatal geisha pussy? Only the tip of the iceberg!