She might be petite, cute, and adorable, however, Adria Rae is no stranger to taking large cocks deep inside her. Adria is a perfect example of your girl next door but when she appears in front of a camera, alone or in company, things go slightly out of control. As a matter of fact, aren't all "girls next door" the naughtiest creatures of them all? We all know the answer.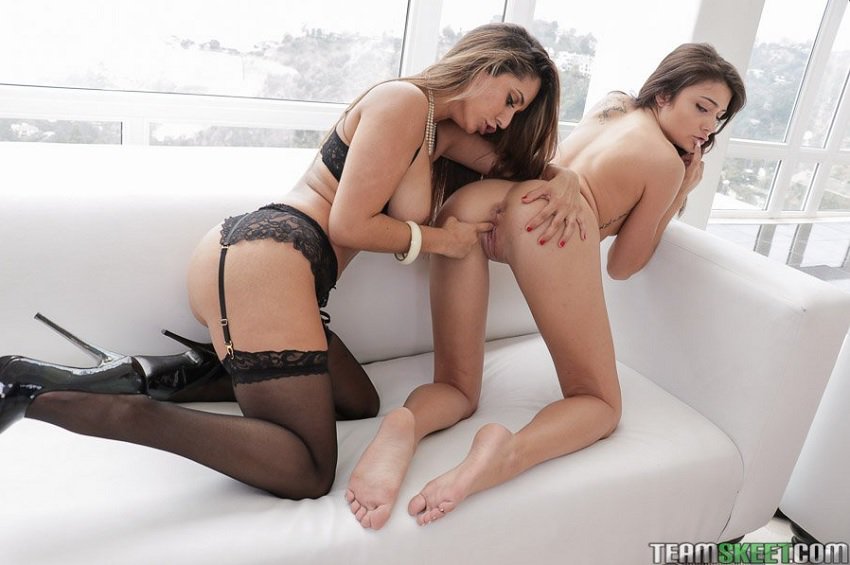 Young mistresses, who give an impression of a shy lass, are normally those who go wild and wicked in bed. Always an unexpected surprise that we all enjoy so much.
Whether in a solo masturbation session or with a big black cock, they will always perform a mouthwatering scene. Just like pornstar, Adria, every lass of her caliber puts all her effort into making each porn video of hers an unforgettable one.
Acting, playing with herself, with another pussy or with a strong shaft, all this and a ton more is what Adria and her fellow actresses do with style.
In other words, you are always in for a sweet, delicious, yet very naughty, treat when adult actress, Rae, throws down an enthusiastic sex show for you.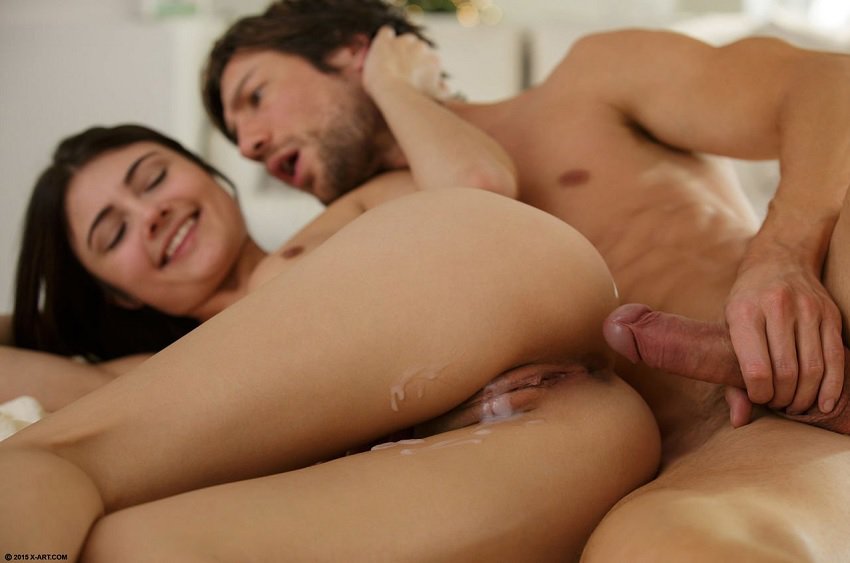 Formerly knows as Aspen Reign, Adria Rae was born on August 27, 1996, in Las Vegas. After entering adult entertainment industry, Adria was unaware that there was already another actress using the same name. Needless to say, she reacted quickly and changed her stage name to a unique one. If you ever got confused which stage name Adria uses, now you know.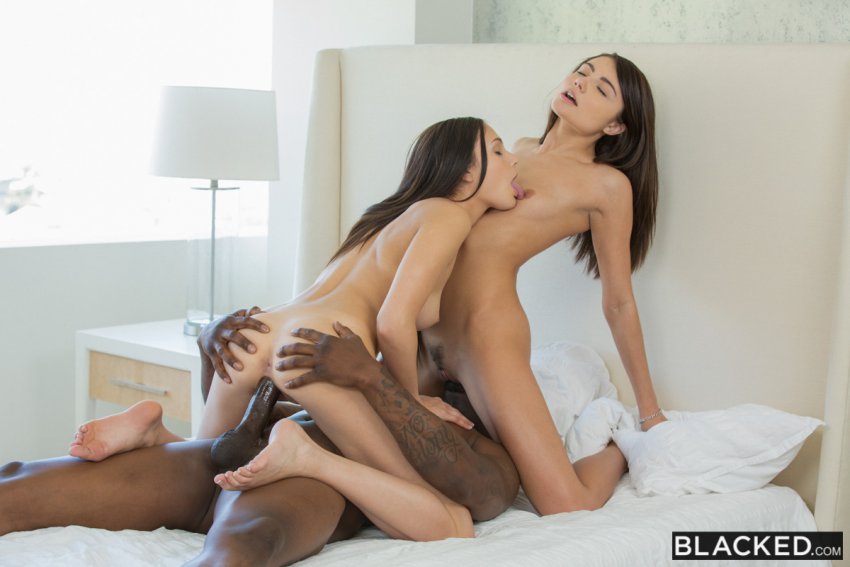 With her strong sex appeal, always craving dirty moments, Adria Rae hits you with a dose of warm sensation with each and every porn scene she appears in. To date, Adria worked with some of the most notable companies, like Brazzers, Evil Angel, Blacked, Tushy, New Sensations and many more. You can expect her working with more of the most popular adult studios in the future, doing stuff you fantasize about.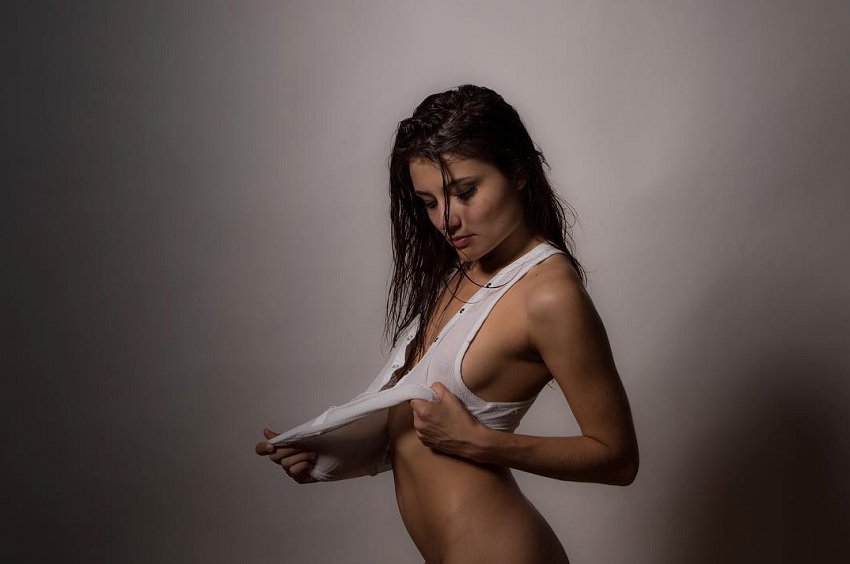 Rae's fan base keeps on growing stronger and stronger. Bear in mind, it's not only due to her insane cuteness why people crave her. Adria is a very active person (hence her incredible body!), has a great sense of humor (maybe not for everyone) and, listen carefully, she is a pro at golf. Not to mention, Adria is very into animals, especially cats.
I mean, one can not get even close to not liking Rae. We all love her! Adult actress, Adria Rae, is a pack every human being both boys and girls can only dream about.
Thanks to the XXX videos, we always have her at a hand's distance away.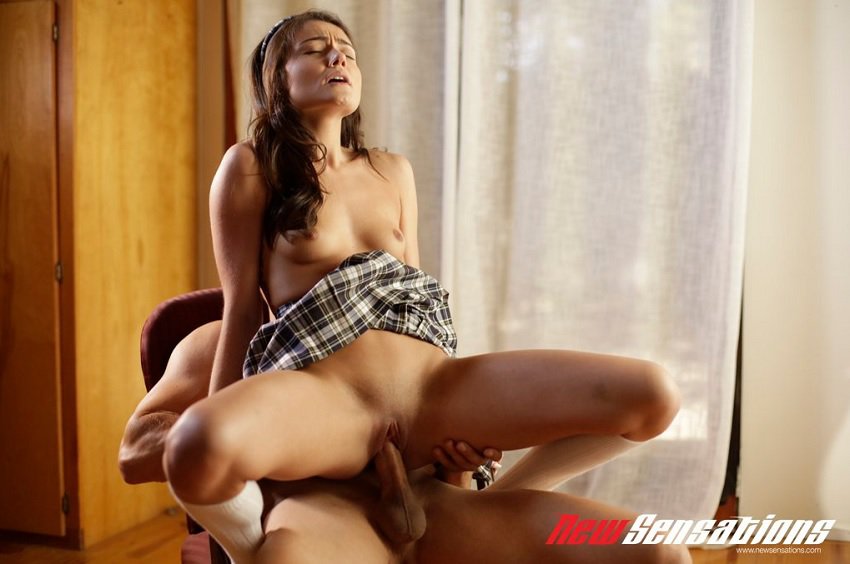 To keep yourself updated with what Adria is up to on a daily basis, follow her on Instagram and Twitter. Warning: there's a lot of sexy material on her social media profiles.
Enjoy the best Adria Rae porn videos and feed your teen spirit
Adria always finds a way to sort things out

Unfortunately, young and adorable brunette, Adria, made a mistake of driving home after a party and a few drinks. She ended up with a DUI. Without the money to pay for the lawyer, she does not really know what to do. To her luck, she remembers the hot black attorney that she met a few months back and gives him a call. Over at his place, they chat and Adria grabs the opportunity to seduce him. Keep in mind, this lady has not yet been with a black guy, which definitely intrigues him. She sucks his BBC like a champ and takes it with her tight and juicy pussy with nothing but passion.
Massive cock for Adria Rae's tight asshole

Although she might look super cute and innocent, Adria is a real pervert. If you offer her nice asshole licking, followed by amazing anal penetration, she will always say yes. The feel of a thick cock rubbing her anal walls turns her on. Just thinking of it makes Adria wet down under. Today, she gets to encounter with Mike's large machete and his super skilled tongue. He prepares this youngster, getting her ready for a dose of vivid butt stuffing. And she takes it like a pro without a sweat. In the end, he explodes with a hot torrent of semen down her throat.
Adria knows damn well how to seduce a guy

Even if things do not go as well as they should between the two of them, Adria will do whatever it takes to make sure he does not leave again. As skilled as she is, you know already that Adria will win him over without trouble. In fact, he is not as easy as she thought in the first place. Still, Adria is too good and knows that he is hers forever. Ah, when the fucking takes place between the two of them, all you will want to do is to sit back, relax and enjoy the amazing show. How Adria Rae sucks cock is mind-bending.
Young brunette enjoys pussy eating from a hot MILF

After working for a while for India Summer, Adria is falling more and more in love with her. She would literally do anything for India. To no one's surprise, their work relationship is slowly building into something more. When chatting on a couch about why India does not have a partner, Adria kisses her and all the rest becomes history. The two of them go down on each other like it would be their last time. If you are looking for some hot young girl-MILF lesbian fuck action, you came to the right place. India and Adria will take your breath away.
Drity Adria cheats with his best friend

Her boyfriend is getting more and more boring lately. He is constantly playing video games, not giving Adria any attention at all. In fact, they don't even have much sex anymore! As horny as she is, she tries to seduce him but no luck. One day, she finds him with his best friend playing video games and things get interesting. Again, no luck from her boyfriend, but his friend, Bill, is definitely interested. And all the fun happens upstairs, in Adria's bedroom. He licks her feet and sucks her toes what gets both super ready for fucking. They waste no more time and go all in. Of course, Rae's boyfriend is still downstairs, playing video games.
Marley Brinx and Adria Rae together in a sloppy blowjob

Smoking hot brunette ladies, Marley Brinx and Rae, take things seriously when they go down on a stud and his enormous shaft. But first, he needs to lick their assholes and get the juices flowing. Of course, he does not hold himself back and goes right down on them, tongue fucking them anally. However, when it is their turn, things get super messy down under for him. Indeed, all in the name of epic pleasure. They suck his shaft, gag and make it one of the sloppiest double blowjobs you have ever seen. And he finishes the session by releasing an equal portion of jizz all over each other's pretty faces.
Stepsister does anything and everything for money

After her stepbrother finds out that she is a pretty damn good cock sucker, he knows exactly what he wants from her. Unfortunately (or fortunately), Adria Rae catches him at the right time. Little does she know, yes, she is about to kneel down and show him her amazing blowjob skills. Obviously, he is not prepared for the slutty stepsister she is and jizzes straight inside her mouth. Nope, that is not really what she digs. The next day, when asking him for a favor – yes, money – he does not give it to her just like that. First, she needs to strip what should follow by a quick pussy fingering and sucking his cock once again. And she swallows! This secret stepsister-stepbrother fucking madness continues the next day with an actual sexual encounter.
6 girls and a female agent in a lesbian orgy

When you go to an interview for a new job, you will give it your best to get the gig. But how does it look being part of an interview with 5 other ladies? Not to mention, this is no regular job we are talking about. It's about taking care of other women.
First, a hot female agent tells you a little something about the agency and then it's up to you to convince her that you are the One for the job. Are you ready to think outside the box and go all in to score the part? Of course you are!
You might still be a bit confused what we are discussing so by all means, don't read further and press the play button immediately. For all the rest, let's dig a bit deeper.
Along with 5 other participants, Adria Rae visits this top class agency that specializes in pleasing women's needs. She is very well familiar with taking care of other babes and 100% sure she is the right choice for the job. Will she actually get it?
After all 6 stunning ladies share a little something about themselves, it's time to take things to a whole new level. The hot agent needs to see if they fit company's needs. How will she test them out? Simple, by getting them undressed and ready for a wicked lesbian orgy. She gives them all a taste and examines how they seduce and please each other.
Get yourself ready for this amazing lesbian group sex featuring 7 absolutely piping hot women, ready to give pleasure to each other.
Hot fuck followed by footjob and facial

Lovely camgirl, Adria Rae, gets kinky in front of the camera for her boy and for you. Wearing sexy red body, she acts very seductively, teasing her petite body. Pinching her small tits, laughing, being cute and slowly stripping out of the lingerie, you will get warmed up and ready for more before the action even begins. If one knows how to get the body juices flowing, it's Adria, taking advantage of her adorable face and tiny physique. What a sweet little lass!
Joined on the couch by her good looking stud, Adria gets her well trimmed pussy stuffed hard and vividly. Moans fill the room what makes you experience great and satisfying vibes. Your body starts to tingle with sensation, imagining yourself, fucking lovely Rae.
But Adria isn't over yet. Though it feels incredible, getting her tight pink stretched by a big shaft, she enjoys being on the giving end. That being said, it's time for Adria Rae to put her gentle feet to use on his penis, offering him a desirable footjob. Wrapping his dong tightly in between her delicate feet, Adria slides them professionally up and down its length until she brings him to the point of no return.
With his cock red and throbbing, he stands up, Adria kneels down, waiting to get her pretty face sprayed with a load of hot cum.
Petite teen finally gets fucked by her older stepbrother

Dreaming about spending sexy moments with her stepbrother, Patrick, long time fantasy comes true when she turns 18. Not only that, Adria Rae wants Patrick to be her first. To no one's surprise, he is more than ready to satisfy her needs and transform her into a real woman.
Visiting him at his studio, the second their eyes meet both Adria and Patrick know this is the day. The day to get things happen and spend a fuck session together. While Rae might not have a large dick inside her yet, she sure had many shafts inside her tiny mouth. That being said, Adria takes his enormous member with great style, offering him amazing oral sex, deepthroat included.
Aroused, wet and ready for penetration, Adria turns around and lets him take her from behind. His large cock stretches Adria's tight pink muffin and starts to rub her pussy walls.
After all this time, it finally happens. Adria moans of joy and pleasure she receives by his huge woody ramming her twat. She just cannot get enough of it. They change positions, move to places and make this sexual intercourse an unforgettable one for teen Adria.
First interracial threesome for Adria Rae

After receiving a DUI, Adria is down to do just about anything to have it dismissed. To her luck, she met this good looking black attorney at a party the other day who she hopes will help her out. Rae gives him a call, invites him over and puts her skills, experience and adorable looks to a good use, seducing him. She successfully convinces him (with a FUCK!), gets her DUI terminated and becomes working for Rob as a personal assistant (with benefits).
Adria works all kind of mundane things to repay her DUI debt to him. It turns out, she quite enjoys working for Rob especially since she also needs to take care of him every once in a while. Yep, where are talking about taking care of his BBC.
One day, Rob calls Adria and invites her over to his place to meet this sexy woman he is spending private moments with. The real truth is: Rob wants a threesome with both petite ladies.
No need to think twice, Adria is already on her way to his house.
Two piping hot girls and a strong black guy, all three know they are after one thing only, sex. Always willing to satisfy his needs, Adria and Ariana kneel down and take his big black cock deep inside their mouth, face fucking him. Chemical reaction strikes all three, getting their bodies and mind ready for Adria's first ever interracial threesome.
Ladies aroused and wet, they receive Rob's BBC with ease, enjoying its width and length. Up until all three cum all over the place.