Everyone who is into bubble butt pornstars, you clearly came to the right place. Now is the right time to sit back, relax and enjoy some of the hottest adult actresses out there with the most amazing asses. I am sure you are pretty much familiar with all of them, it's just that you can now enjoy them all at the same time, scrolling up and down this list.
Some porn fans are all about feet, the others are obsessed with boobs, the third ones go crazy for legs and then there are pretty much all of us who enjoy a good butt. The one that is round, perfectly shaped, it could be tight or a little wobbly just definitely not flat.
If you are looking for the best ass in town, there is at least one if not all of them who you will find absolutely outstanding. No worries. Take as much time as you need to clearly define who is your favorite. And if it happens that it is a bubble butt pornstar who is not on this list, feel free to share her in the comments section below. We are ready to add more to the list and keep it updated on a regular basis. Let's face it, new porn superstars are born weekly if not daily, that's why it will be beneficial to you to return for more every so often.
The best bubble but pornstars
Kagney Linn Karter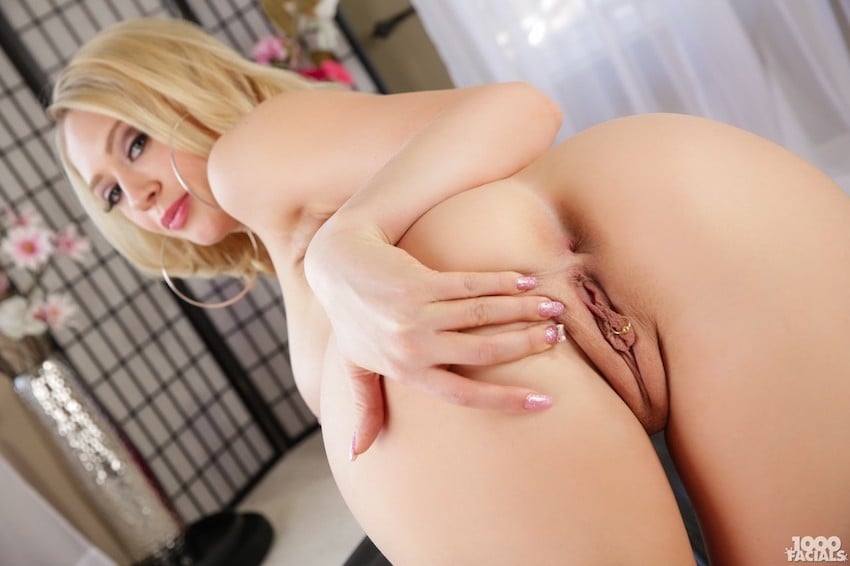 Kagney Linn Karter is a stunning woman who can do glamorous and super wicked stuff in front of the camera. She is a pornstar of many talents that you should 100% not miss in your life. As a matter of fact, you cannot really miss Kagney, because your porn consumption will eventually get you to at least one of her XXX scenes. But she shot tons of kinky material for your viewing pleasure. Moreover, Kagney Linn Karter was born on March 28, 1987, in Harris County, Texas. There is no sign of stopping for Kagney, instead, she is developing into a smoking hot MILF that turns heads form miles away.
Instagram: instagram.com/kagneyofficial/
Twitter: twitter.com/kagneythebabe
Ryan Keely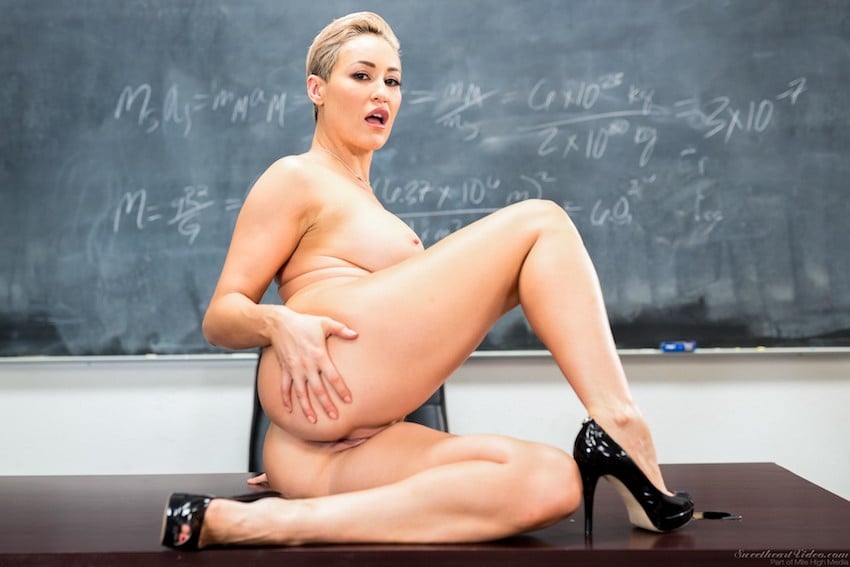 Ryan Keely is a curvy lady with a jaw-dropping bubble butt. If ladies with short, blonde hair and a voluptuous body are your cup of tea, you better not miss Ryan. This porn superstar has been around for quite some time now. Still, she took a few years off from shooting porn; however, in 2017, we experienced a Ryan Keely comeback. She was born on July 2, 1984, in Washington, and just recently did her very first anal porn shot. You can see it over on Brazzers – I tell you, it is very, very good. Watch Ryan do her thing and get your cock to throb.
Instagram: instagram.com/ryankeelytm/
Twitter: twitter.com/ryankeely
Julianna Vega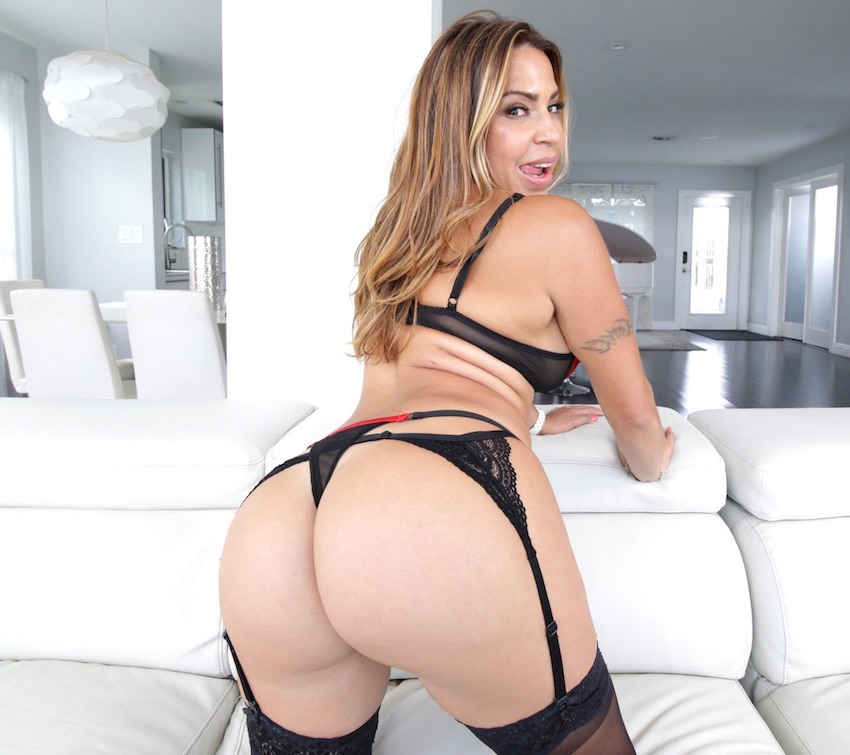 Julianna Vega is the real example of how a bubble butt pornstar should look. This smoking hot Latina MILF is out of this world. I do not know about you, but I would very much like to bury my face in between those butt cheeks. I mean, did you even give that ass a good look? Is it even real? It is round, thick and bubbly, yet still exceptionally firm. I think Julianna must be lifting weights, like doing squats all the time. But she is a real woman as a whole, coming to your screens with her impressive assets. Last but not least, Julianna is from Cuba and was born on July 5, 1981. Watch any of her XXX scenes, and you will be amazed in an instant.
Instagram: instagram.com/theonlyjuliannavega/
Twitter: twitter.com/realjuliannav
Kailani Kai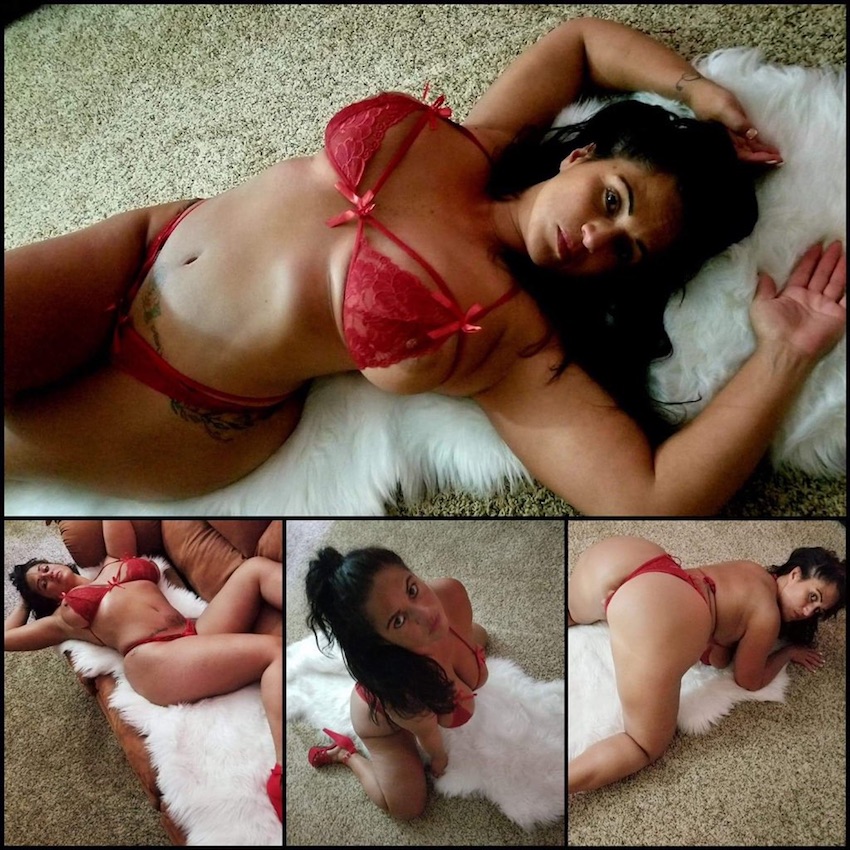 If you are looking for a smoking hot and curvaceous babe with remarkable assets, Kailani Kai is your girl. This lady was born on September 10, 1970, in Hawaii, and that's where the unique looks come from. For a woman that is slowly approaching her fifties, Kailani looks absolutely phenomenal. Do you know when she looks the sexiest? You guessed it, when she gets to play with a young stud with a muscular body and a massive cock. Those are the guys that Kailani Kai likes to have some fun with the most, teaching them a sex lesson or two.
Twitter: twitter.com/kailanikaixxx
Kelsi Monroe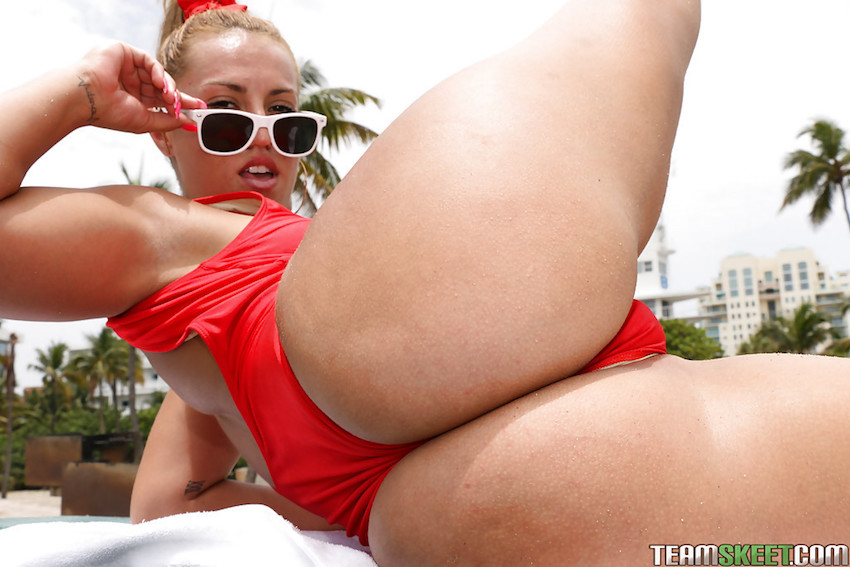 Kelsi Monroe is quickly gaining popularity as one of the leading pornstars in the adult film industry today. Monroe is a former gymnast, and she uses her gymnastics skills in order to bend and twist in ways that would satisfy the dirtiest fantasies of her fans. You should see her butt bouncing as she does her acrobatic moves while she gets fucked. You should remember, too, that her boobs and butt are all-natural. Kelsi loves getting rammed doggy style and has a passion for men who are confident. Think you can handle her? If not, then you can just jerk off to one of her amazing XXX videos.
Instagram: instagram.com/officialkmig2/
Twitter: twitter.com/officialkmbooty
Richelle Ryan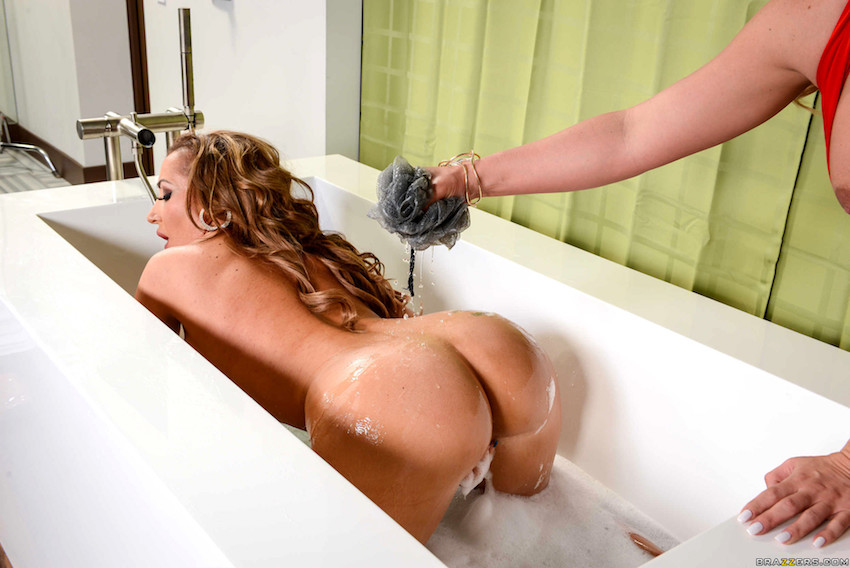 Richelle Ryan has everything that you are looking for in a pornstar. She has big tits, a curvy body, a pretty face, and raw sexual charm. To top it all off, she has a very nice booty, making her a favorite bubble butt pornstar among fans today. Born in Rochester, New York, Richelle started her career as a stripper. Knowing that she can do so much more when it comes to pleasing guys, Richelle made the transition to making porn. This bombshell is a bisexual who has a huge appetite for sex. So, whenever Richelle Ryan feels like having sex, she's ready to fuck anyone who's handy.
Instagram: instagram.com/onlyrichelleryan/
Twitter: twitter.com/richelleryan
Sarah Vandella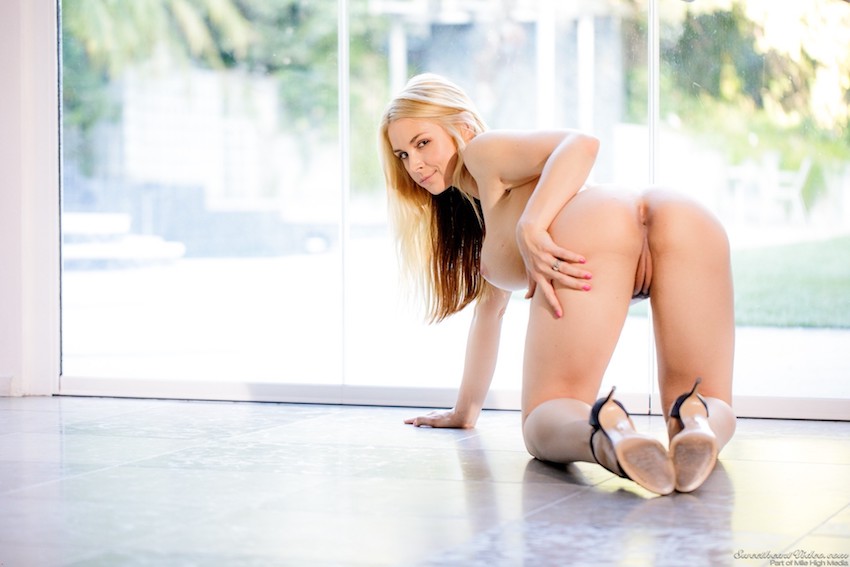 Sarah Vandella was born to a hippie family. That's probably why she's very free and open about sex and her sexuality. She loves to fuck, and it really shows with all the Smut videos that she has done so far. Sarah entered the industry back in 2007, and she was just 23 back then. Now, she is one of the most searched pornstars with bubble butts. Not only that, but Sarah has also earned eight AVN nominations in recognition of her passionate performance in front of the camera. Maybe one of the reasons why she's so good is because she doesn't have to fake any of it.
Instagram: instagram.com/legit_sarahvandella/
Twitter: twitter.com/mssarahvandella
Alexis Texas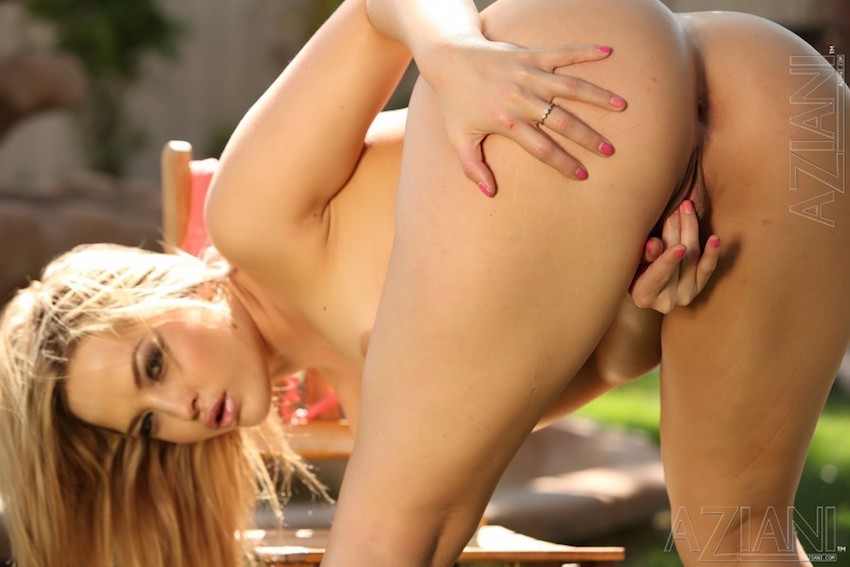 Alexis Texas is a real Texas chick. She loves her state so much that she even chose it for her stage name. The name is just right for her. Just like her namesake, everything is big with Alexis Texas. She has a nice pair of boobs and a massive ass that has turned her into one of the most popular bubble butt pornstars in recent years. It really is a delight to see her ass bouncing up and down when a muscular stud bangs her hard. If you like an all-American girl who clearly enjoys being fucked to please her fans, then Alexis is the pornstar that you have been looking for.
Instagram: instagram.com/whitegirlpoliticking/
Twitter: twitter.com/alexis_texxxas1
Valentina Nappi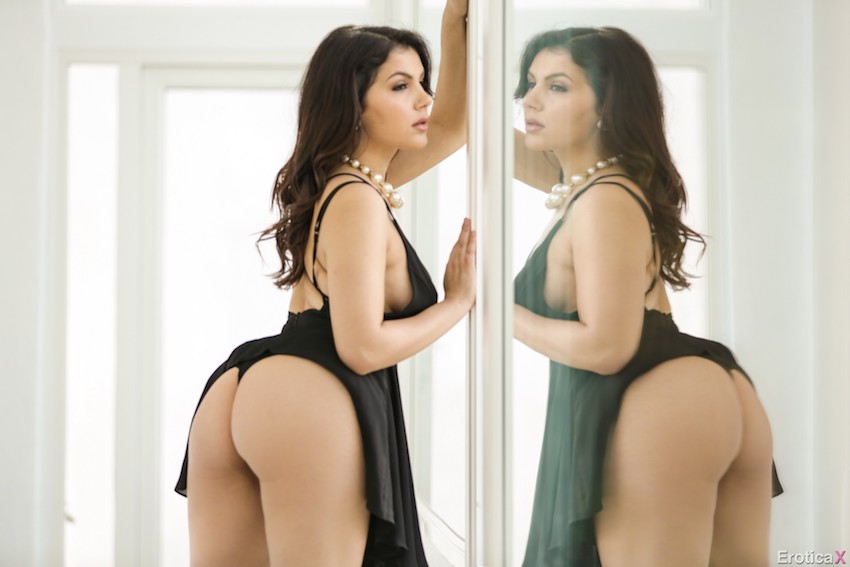 You are not a real fan of porn if you are not familiar with Valentina Nappi. Not only is she one of the most recognizable Italian pornstars but, she is also one of the most popular performers today. This Italian bombshell got her start in the porn industry when she sent a message to Rocco Siffredi. He instantly recognized the potential that her beauty has. Another reason why she became such a hit is because she's a real horny slut who can be as dirty as any whore. How dirty can Valentina be? Well, she promises to give a handjob to anyone who asks for it.
Instagram: instagram.com/instavalentinanappi/
Twitter: twitter.com/valenappi
Anikka Albrite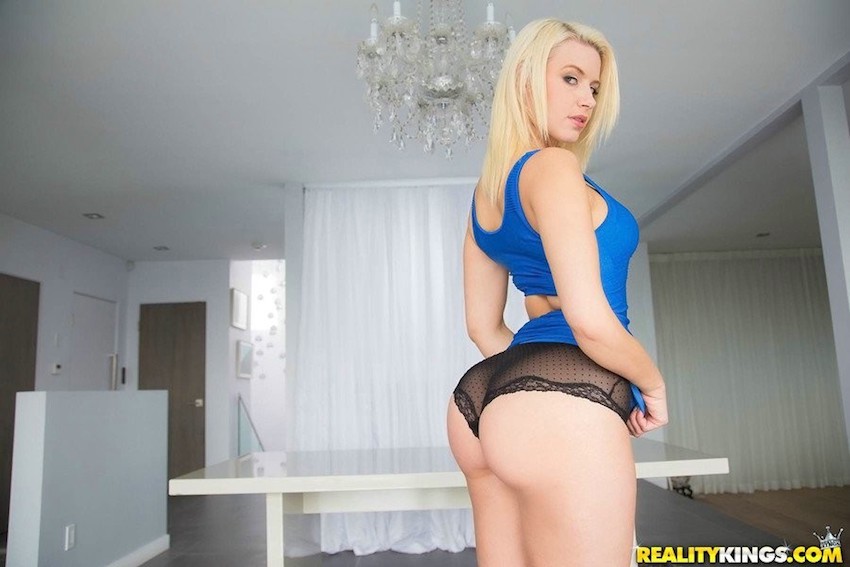 Born in Colorado and raised in Arizona, Anikka Albrite is another all-American girl. This blonde goddess has legions of followers all over the world who are crazy about bubble butt pornstars. You might be surprised to learn that Anikka double majored in college and one of her majors was molecular biology. Thankfully, she did not pursue her scientific career any further and she decided to join the adult film industry in 2011. Anikka was able to get instant recognition as she was placed in several lists of top new pornstars. She has received several awards for her performance since her debut and she continues to make dicks hard.
Instagram: instagram.com/alotofbritesmiles/
Twitter: twitter.com/anikkaalbrite
Ryan Conner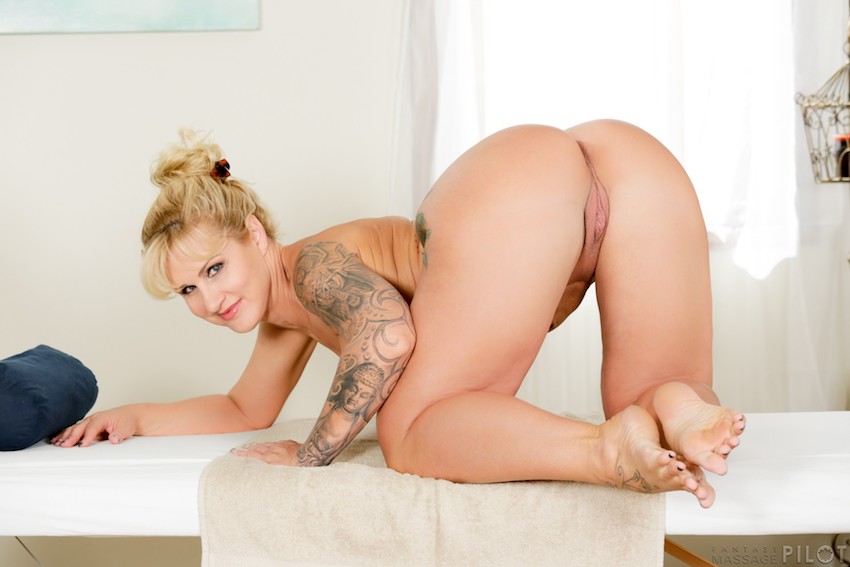 Porn fans all over the world are losing their minds with the news that the original favorite big ass pornstar, Ryan Conner is back. She took a 10-year hiatus from doing porn. During that time, Ryan tried doing other stuff like working on her musical career. She actually shot a few steamy music videos that only made her fans miss her more. Now Ryan is back and she iss better than ever. With her massive tits and her curvy body, Ryan is ready to retake her place as one of the leading adult film actresses in the industry. Get your dicks ready!
Instagram: instagram.com/ryanconnerofficial/
Twitter: twitter.com/ryanconner69
Eva Lovia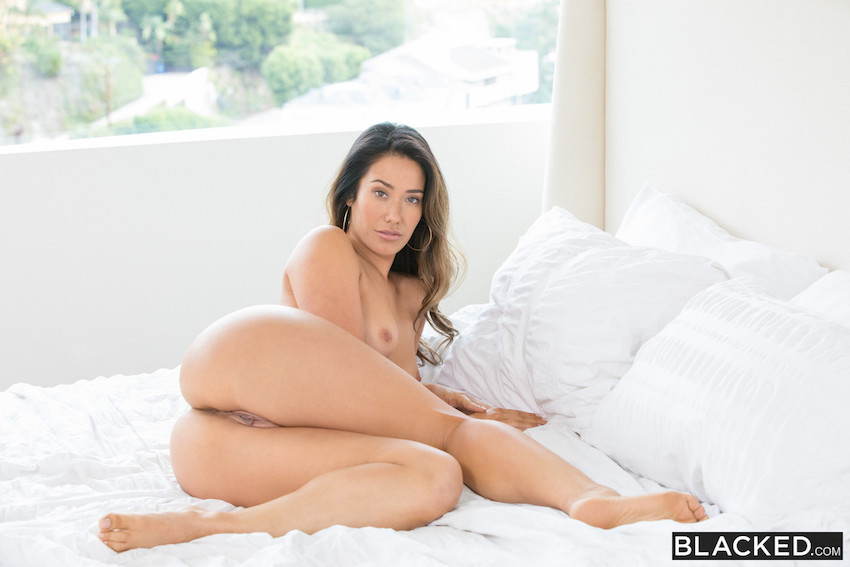 Eva Lovia is like an angel, a sex angel that is. With her sweet hazel eyes, perfectly tanned skin, and innocent looking face, you might find it hard to believe at first that she works in the porn industry. But don't be deceived by her looks. Eva would not be one of the leading and hottest pornstars today if, deep down, there would not be the horny animal she really is that she later released. This former Hooter's babe started out as a model, then a webcam girl. Because of her talent, looks, and sexuality, Eva got noticed and started working in adult films quite quickly. Now, Eva Lovia is pleasing countless fans all over the world.
Instagram: instagram.com/lovialongtime/
Twitter: twitter.com/missevalovia
Abella Danger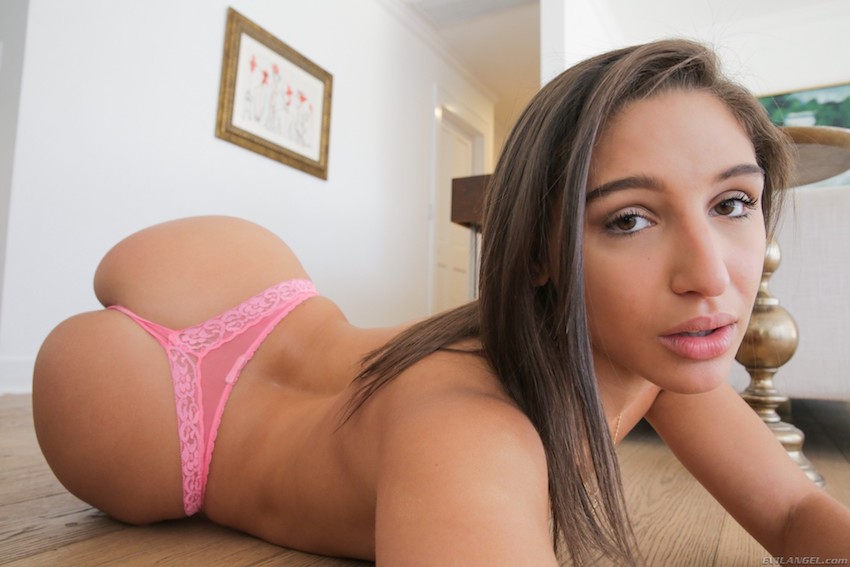 Just one look at Abella Danger and it is easy to see why many consider her to be one of the best up and coming bubble butt pornstars today. We dare you to watch her debut porn video, in which her ass got devirginized, and not jerk off multiple times in a row. Abella has a perfect round butt that is paired with a pair of thick thighs. It's a real pleasure to see her fucking and sucking, as well as making out with girls, while her butt is bouncing up and down. Abella has an incredible body that comes with flexibility that you would rarely see in other adult actresses. If you want to get your dick hard right away, then watch one of Abella's videos.
Instagram: instagram.com/dangershewrote/
Twitter: twitter.com/abella_danger
Jada Stevens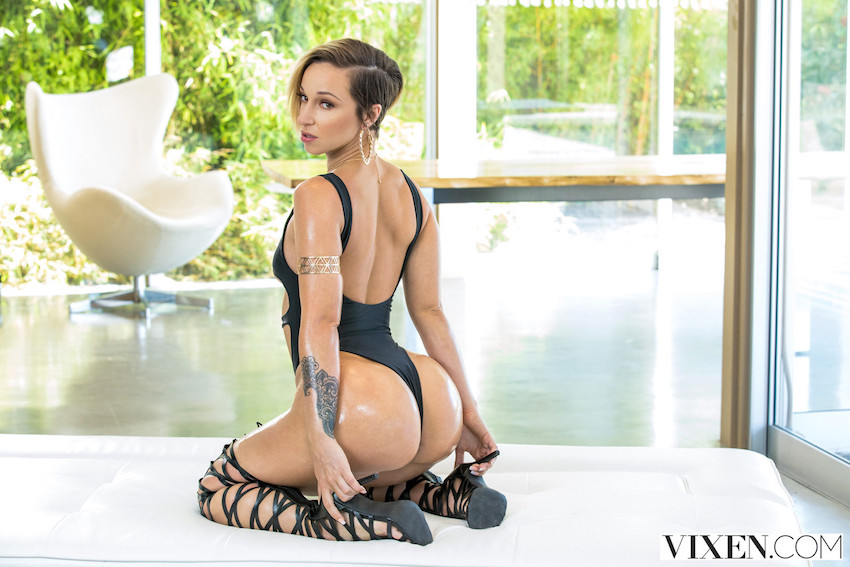 Jada Stevens started making porn films back in 2008. Since her debut, Jada has managed to become of one of the most beloved pornstars in the adult film industry. The secret to her success is her legendary bottom. It is massive and perfectly shaped; you have to see it to believe it. She has a petite frame, with an amazing pair of breasts that are perfect for cupping. Jada has a fantastic overall figure, which is why every video that she stars in is sure to cause a massive boner on any guy who sees her. She matches her looks with a passionate performance that has won multiple awards.
Instagram: instagram.com/2cheekzback/
Twitter: twitter.com/jadastevens420
Dani Daniels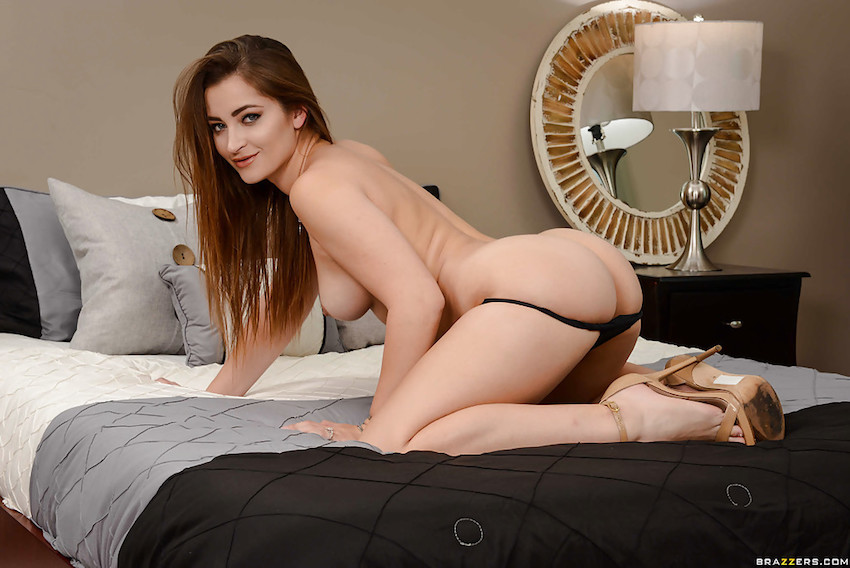 Dani Daniels is a fresh-faced girl that has that sweet and innocent vibe. She is like your neighborhood childhood crush. But this sweet looking girl has a real wild side to her. That's why Dani is one of the first names to come up when fans are talking about bubble butt pornstars. She started out by doing masturbation and lesbian scenes but because she's a really horny slut, Dani could not resist getting a taste of all those nice and fat cocks of the male actors. When she is not doing XXX scenes, Dani loves to enjoy doing simple things like going for walks and visiting museums. Sounds boring? Well, once you get her into bed, it's a different story.
Instagram: instagram.com/akadanidaniels/
Twitter: twitter.com/akadanidaniels
Bella Benz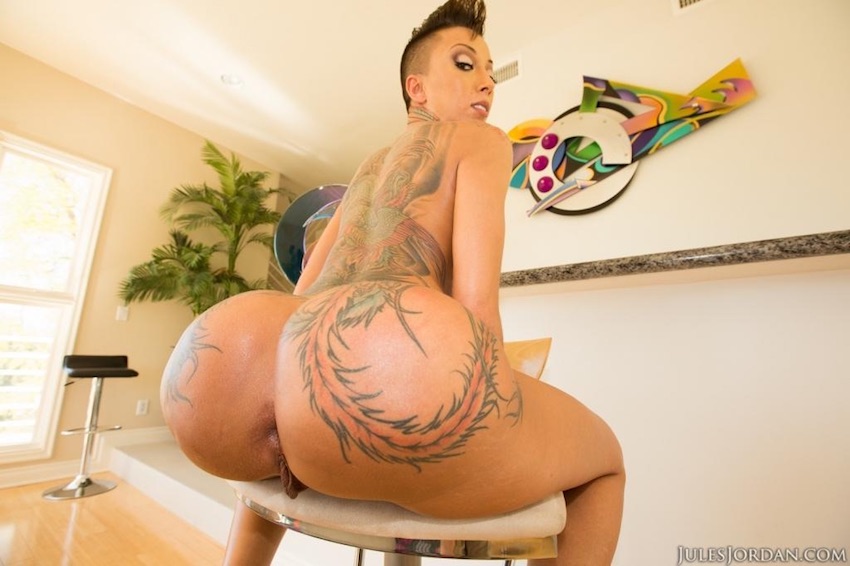 If you are into really, really big butts, then Bella Benz is the pornstar for you. This phenomenal pornstar with ink has a massive behind that would amaze you to no end. Bella first got noticed as a dancer, but when people saw her huge ass they started wondering what it would be like to fuck her or at least see her fucking. Now fans no longer have to satisfy themselves with just fantasizing about her. Bella also boasts of a smooth skin that is accentuated by beautiful skin art. She also sports a funky haircut that gives her a naughty air.
Instagram: instagram.com/lizzabellz/
Twitter: twitter.com/inkybellabellz
Moriah Mills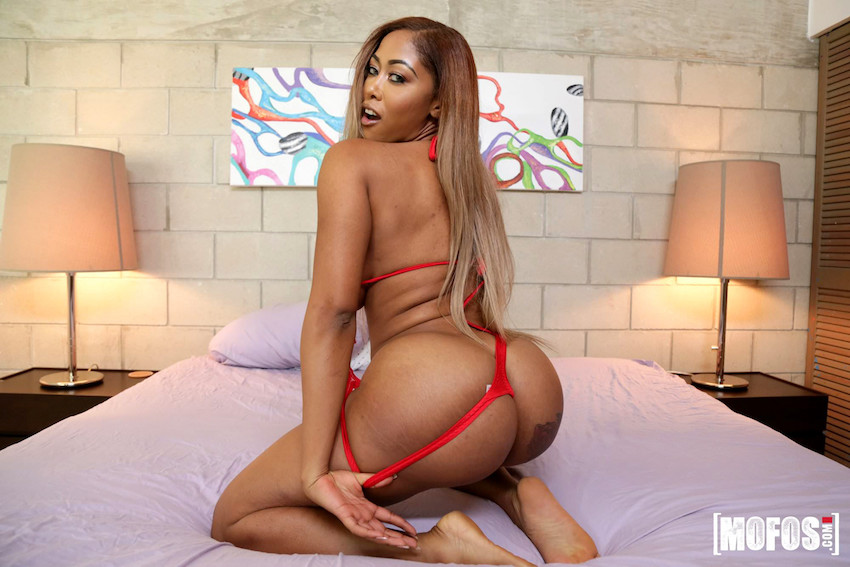 There are several things that you would notice about Moriah Mills when you see her for the first time. First of all, there is her pair of 34DDD tits. Then there is her equally massive bottom which has catapulted her to become one of the top bubble butt pornstars in the industry today. She is a curvy goddess who brings delight to her fans all over the world. Moriah started as a social media model and people noticed her right away. She was able to get millions of followers and that was her ticket into doing adult films. Now, fans get to see her destroyed by different guys and it is a pleasure to see that Moriah is really enjoying all of her scenes.
Instagram: instagram.com/moriahmillss/
Twitter: twitter.com/moriahmillsss
Mia Malkova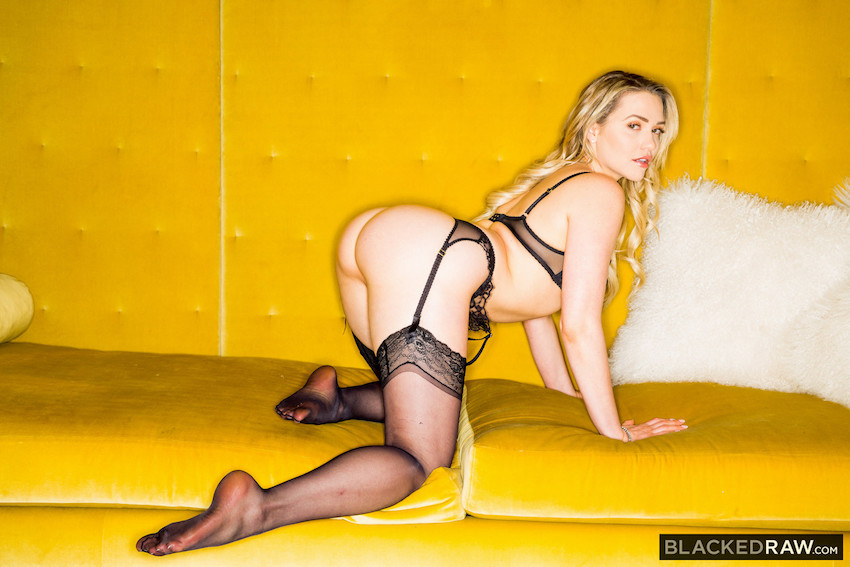 Mia Malkova is the ultimate California babe. She loves to party, and she loves to fuck and she's not shy about that. This blonde cutie is a favorite of those who are into best ass pornstars because of her large bottom. This pretty-faced babe has a secret weapon. She's a gymnast and contortionist. That's why Mia can bend and twist her body in ways that can blow the imagination of guys. Starting out in 2012, Mia has managed to spin her way to the top of the porn industry. She loves the idea of having thousands of guys jerking off to her videos.
Instagram: instagram.com/mia_malkova/
Twitter: twitter.com/miamalkova
Rachel Starr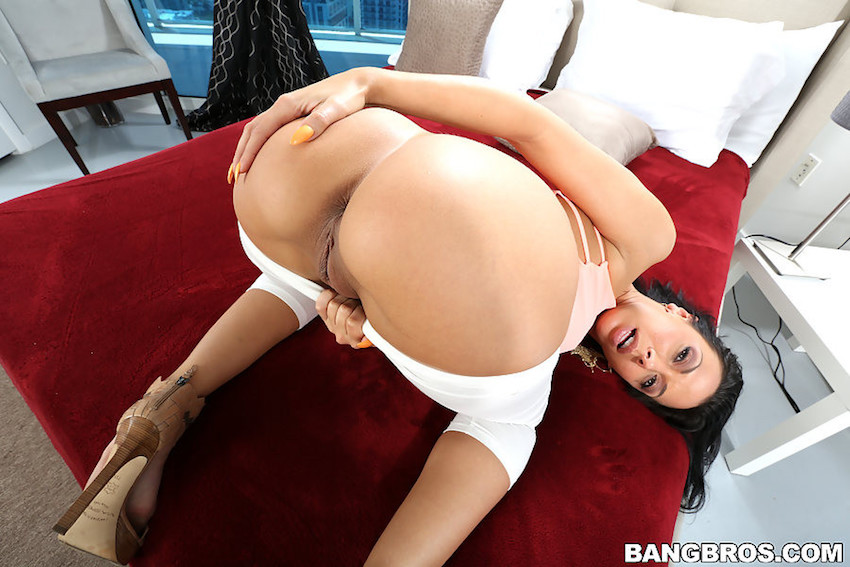 Somewhere in the world, there's a porn fan jerking off to a Rachel Starr video right now. That's how popular this bubble butt pornstar has become. Rachel started working in the industry back in 2007. She was already a swinger back then and someone suggested that since she was into fucking different guys all the time, why not make a career out of it? Good thing Rachel tried it out and she liked the lifestyle and now she's one of the more recognizable stars in the industry. Her passion and dedication have been recognized with nominations for awards. When she's not shooting scenes, Rachel loves to spend time seeking adventure.
Instagram: instagram.com/rachelstarr/
Twitter: twitter.com/rachelstarrxxx
Christy Mack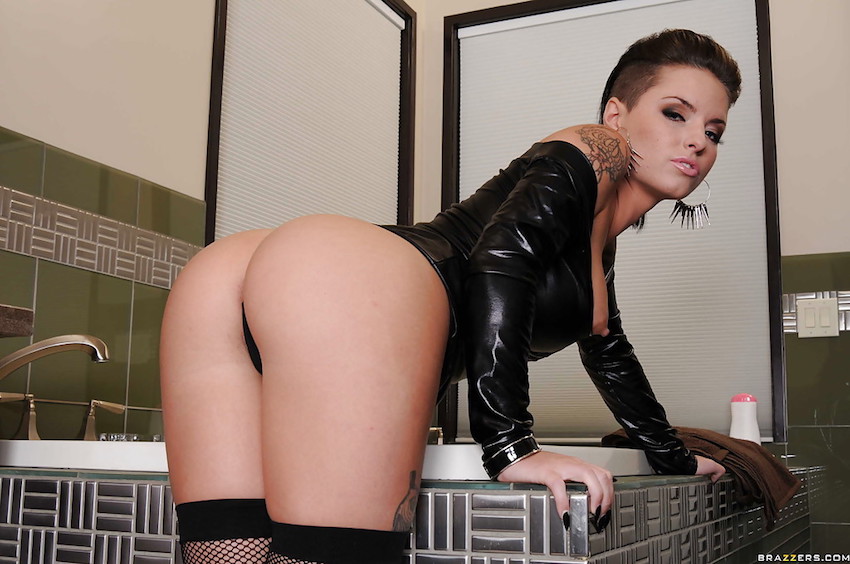 Christy Mack is not just a leading pornstar with a big ass, but one of the top adult film stars today. She is a real game-changer as she paved the way for other pornstars with tattoos to work in the industry. She has managed to gather a following that proves she's not just a favorite of punks and rockers but mainstream porn lovers as well. Christy's massive tits and juicy plump butt are real delights to see. She loves fucking and she proves it with each and every scene that she stars in. Her passion is evident with the way that she moans whenever there is a dick sliding in and out of her pussy.
Instagram: instagram.com/christymack/
Twitter: twitter.com/christymack